Recipe of Finger Sandwich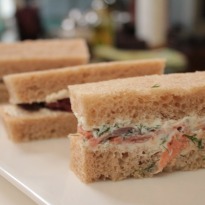 Nothing shouts out tea time snack more than finger sandwiches. Try these delicate smoked salmon sandwiches with dill and cream cheese.
Ingredients
Smoked salmon
Some dill
Dash of lemon
Some salt and pepper
2 slices of bread
Cream cheese dip
How to Make Finger Sandwich
On two pieces of bread spread the cream cheese and put the smoke salmon slices.

To Serve: Cut the smoked salmon sandwiches into halves and serve.