Yogurt Dip with Crudites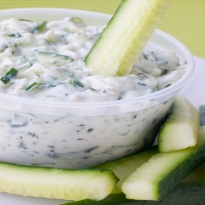 Curd and herb dip with vegetable sticks, a party staple.
Ingredients
For the dip:

250 gm hung yogurt

1 stalk spring onions, finely chopped

1 medium cucumbers, peeled

1 tsp dill, chopped

1 tsp parsley, chopped

1/4 tsp roasted cumin powder

10 ml olive oil

5 ml lemon juice

Salt to taste

Pepper to taste
1 tsp honey

For the crudites:

1 carrot

1 radish

1 cucumbers

1/2 each red bell peppers

1/2 each yellow bell peppers

1/2 each green bell peppers

6 asparagus srears

4 baby corn

Method
For the dip:

Put the chopped herbs in a large bowl, add the hung curd, lemon juice, olive oil and season to taste. Mix well and chill.

Prep up all the veg. Serve along with the dip.

For the crudites:

Peel and prep the vegetables. Soak in a bowl of chilled water to refresh.
Key Ingredients:
hung curd
,
spring onion
,
cucumber
,
dill
,
parsley
,
cumin seeds
,
olive oil
,
lemon juice
,
Salt
,
black pepper
,
honey
,
carrot
,
radish
,
bell pepper
,
asparagus
,
baby corn