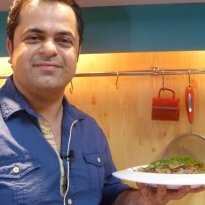 Born and bred in Mumbai, Vicky Ratnani's wit and charm has a duality that is reminiscent of natural Indian spice. Intensively trained and extensively traveled, Vicky is the Corporate Chef for fine dining at Aurus in Mumbai.

The initial explosive burst of personality & flair is followed through with a wild imagination, delicately layered with being excitable, entertaining, inviting, spontaneous & devilish. His comfort with all things concerned with 'food' brings even the most dull cooking experience to life - dinner parties take on an epic grandeur and picnic brunches become terrifically fun events.

His food is an amalgamation of the experiences and tastes he has acquired from his work abroad. For Vicky it's about creating dreams and feeding the imagination. He hosts the popular show, Vicky Goes Veg.