The word '
pulao
' came from a Sanskrit word 'pulāka' meaning a ball of
rice
. Origins of pulao go way back to the ancient times. It also has a reference in ancient Hindu manuscript The Mahabharata, mentioning it to be
rice
and
meat
cooked together. The dish is the integral part of
South Asian
and
Indian cuisine
. All over the world rice symbolises prosperity and it is interesting to know 90% of rice is consumed in Asia itself.
The popularity of rice can be credited to
Persians
, Portuguese and rulers like Alexander the Great. These people travelled and took along with them a country's
food
,
culture
and way of living. The exact origin of rice may be untraceable but it is fascinating to see where it has reached now. Pulao has various other names and styles of cooking. Some of them are Kabuli Pulao, which is a national dish of Afghanistan, Turkish Pilav, Osh Plov - a staple dish in Uzbek, and Paella - a
Spanish
dish cooked along with chicken sausages, salami,
herbs
and
spices
, but interestingly it doesn't break into the category of
pulao
or
biryani
.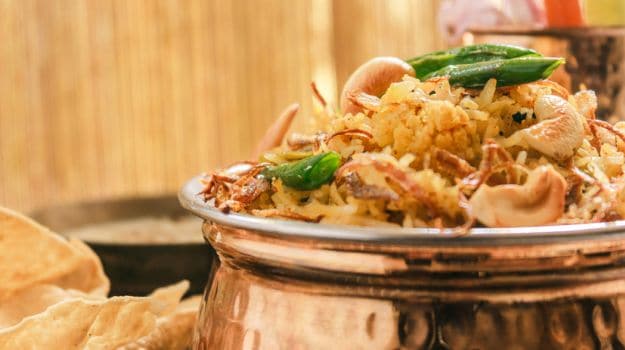 Pulao is a dish consisting of rice and a mixture of either
lentils
or
vegetables
, mainly
peas
,
potatoes
,
carrots
and
beans
, and also
meats
, such as
chicken
and
mutton
. Also the preparation keeps changing with every border we cross in
India
. While people in
Maharashtra
like to add
peanuts
, down South we can often see the inclusion of
coconut
and
curry leaves
. It is usually served on special occasions like wedding functions but also consumed on a regular day.Pulao shares similarity with well renowned Indian dish
biryani
. But there is a huge difference between the two. Biryani is cooked along with gravy and sometimes also layered, before being put on dum. On the other hand, pulao is not layered; plain rice is sautéed and tossed with herbs, spices and vegetables.
For the Love of Corn
Coming to Corn Pulao, it is one of the variants of pulao which has become a favourite over the years. The love for corn kernels or bhutta (smoked corn) is not uncommon in India. During the
rainy season
or
winter
, biting into hot bhutta sprinkled with
red chilli
powder is an absolute treat.Corn Pulao is a wholesome dish, which is made with
aromatic rice
and golden corn kernels along with a mixture of other vegetables, spices and herbs. The dish is best served with chilled raita and fried
papad
. It is so simple yet so flavourful that you can have it for
lunch
,
dinner
and even as a quick meal on the go. Pack it in your office lunchbox or carry it when you are out on a picnic, it is versatile and pairs beautifully with other dishes.While cooking the
pulao
, you can also play around with a range of spices to suit your taste. Most recipes call for red chilli powder to tune up the heat to contrast the sweetness of the corn kernels, and
cardamom
,
cinnamon
and
cloves
to make it aromatic. Bay leaves are also thrown in to build the flavour, along with garnishes like fresh
coriander
or
mint leaves
. For some crunch, you can add in some nuts like
cashew
, peanuts or
almonds
.
While you can use premium, long grain basmati rice to make the pulao as in the case of biryani, some cooks like to give it a skip and instead use an aromatic short grain rice called Zeera Samba or Govindo Bhog to make the dish. It works like a charm to build the flavour profile, making it an irresistible treat."I like to call this recipe Makai Pulao. This quick and easy pulao can be a good choice for vegetarians and a substitute for your biryanis," says Executive Chef Machindra Kasture of Ashok Hotel, ITDC. Here's his recipe -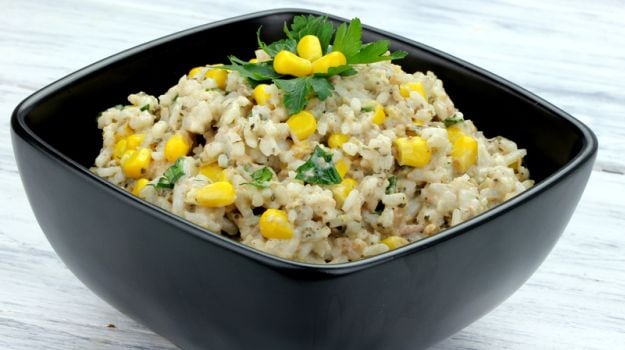 Corn Pulao
Serves: 2
Time: 20 minutes
Ingredients
250 gm of basmati rice
80 gm of American corn kernels
2 tsp of olive oil
1 onion
1 tsp of ginger garlic paste
1 tsp of salt
4 green chillies
5 gm of cumin seed
1 bay leaf
½ tsp of pepper corn
8 cloves
2 cups of hot water
3 Tbsp chopped coriander leaves
2 tsp of lime juice
1 bell pepper, chopped and sautéed
Grated coconut
Method
1. Rinse basmati rice and soak it in water for at least 15-20 minutes.
2. Grind coconut, green chilli, coriander leaves to make a fine paste.
3. Take a pan add olive oil.
4. Once the oil is hot add cumin seeds, cloves, bay leaf, pepper corn, sliced onion, slit green chillies, ginger garlic paste and grinded paste.
5. Sauté well, and then add Corn kernels.
6. Drain the rice and add it to the pan. Keep string.
7. Add hot water, little salt and cook for 15mins.
8. Once the rice is 3/4th done add lime juice.
9. Finally garnish with sautéed diced red and yellow bell pepper, grated coconut and chopped coriander leaves.
10. Serve with cucumber flax seed Raita.
Disclaimer:
The opinions expressed within this article are the personal opinions of the author. NDTV is not responsible for the accuracy, completeness, suitability, or validity of any information on this article. All information is provided on an as-is basis. The information, facts or opinions appearing in the article do not reflect the views of NDTV and NDTV does not assume any responsibility or liability for the same.