Chaat Recipes- Walk around any street in North India and you'll find vendors lined with a variety of street preparations like Aloo Chaat, Papdi Chaat or the famous Dahi Bhalla Chaat. These are easy to prepare and are loved by all. Straight from the streets of North India, chaat now famous all over the world. It is believed that chaat was born in the royal kitchen of emperor Shah Jahan. According to legend, when the Mughal emperor fell ill, he was instructed by his Hakim to consumefoods that are light on the stomach but high on spices so as to strengthen his immunity. Hence, chaat was discovered!

Interestingly, as the country underwent foreign influences, new flavours were added on to local fare. Chaat was modified many times over, traveling from the North to Gujarat, where it took an entirely different form and taste. It then went on to becoming a Pan Indian-Subcontinental food phenomenon.

All popularIndian street foods from Raj Kachori, Bhel Papdi, Dhahi Bhalle to Paani puri, Papdi Chaat and Sev puri - heavily influence the ever so versatile chaat. Of course, every nook and corner has its own creative spin on it.

Got hit by a sudden craving? Here are our 15 best chaat recipes to your rescue! With these quick home-made versions you will have no reason to hit the food stalls.
Nothing like the crunch of freshly made papdis topped with yogurt, coriander and tamarind chutney. An authentic recipe straight from the streets of Old Delhi.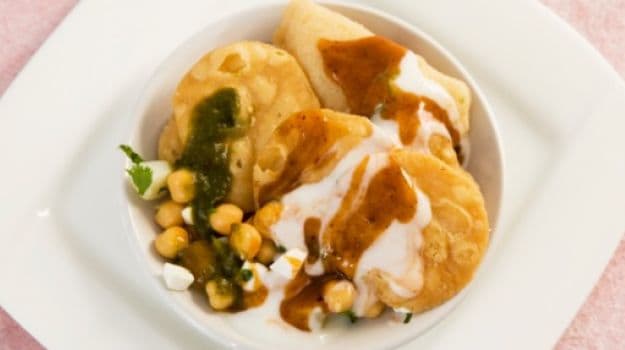 Paapri Chaat is the classic chaat recipe that you'll find all across the streets of northern India.

Dilli Ki Aloo Chaat is what street food is synonymous with. Crisp fried potato chunks wrapped in fiery spices and tossed with chutney. Enjoy the great taste right in the comfort of your homes.

Spicy, chatpata fried aloo chaat that you just won't be able to resist!
A low fat alternative for all those health fanatics.The fresh flavours of corn, pomegranate, orange, mint, coriander and tamarind will get you hooked!


Also Read & Watch: How to make Papadi Chaat at home, Recipe in Hindi.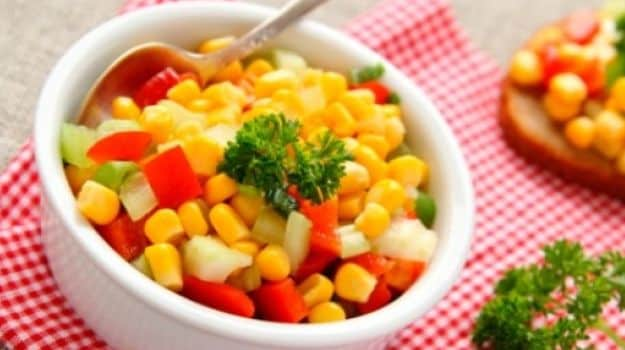 A healthy mix of corn, pomegranate along with mustard sauce, mint and oranges.
The goodness of paneercoupled with mild spices and served with a freshly madechutney that is sweet and sour in on bite. A simple yet satisfying snack to soothe those untimely cravings.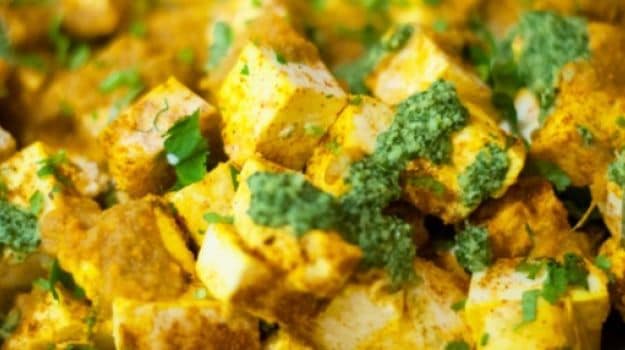 Minty paneer tossed with a spicy , sour chutney for a delectable starter treat.
This healthy and hearty serving is what you need after a long day's work! A lovely mix of chickpeas, green peas, potatoes, pomegranate and tomatoes, finished with mint and tamarind chutney.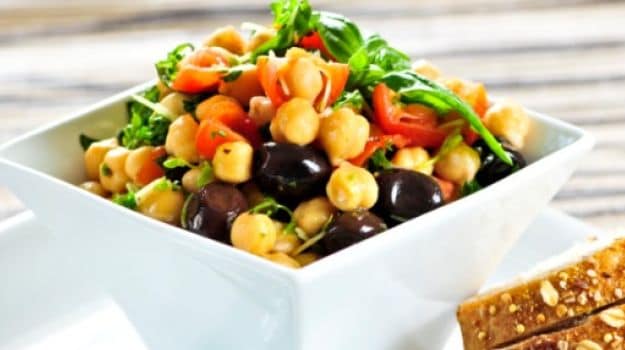 A healthy mix of channa, peas, potatoes, pomegranate, tomato, sesame and mild spices.
Eggs are great any time of the day! Boiled eggs enhanced with theflavours of cumin, tamarind, tomato ketchup and a generous squeeze of lime. Top with boondi to add some crunch.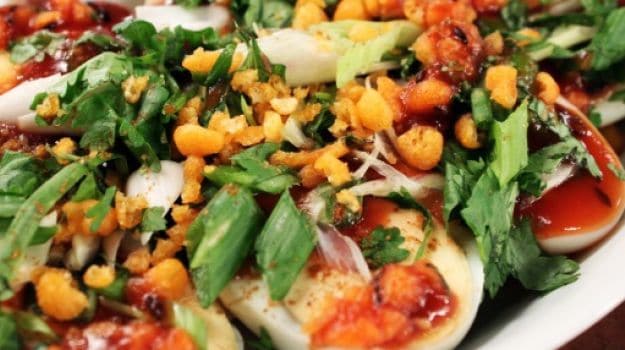 A tangy mix of tamarind, eggs, lemon and tomato ketchup. Perfect for breakfast or mid-day meal.
A vibrant mix of rajma, channa, green beans, pomegranate, cucumbers, potatoes, herbs and spices, dressed lightly.
(Read and Watch:
Step by Step Recipe for making Dahi Bhalla at home
)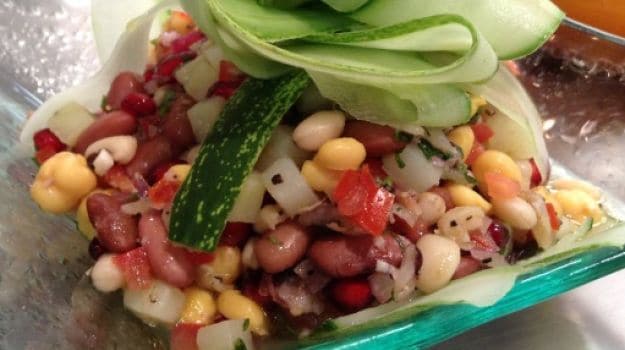 This three bean chaat comes alive with a light dressing of olive oil, chaat masala and lemon juice,
Bite into the char-grilled flavour of a variety offruits, marinated leisurely with mustard oil, anardana, black salt and honey.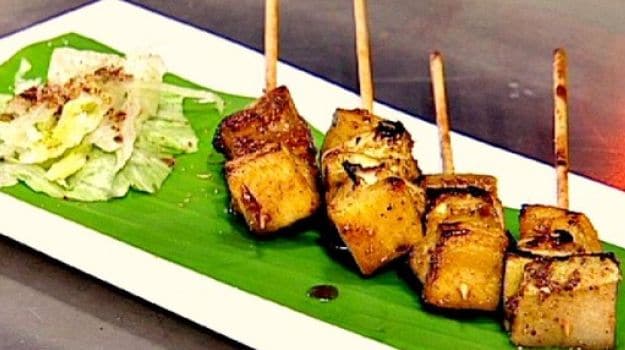 Grilled Fruit Chaat
This fried palak chaat is a great companion on arainy day. Golden fried spinach pakoras meshed with an assortment of spices, yogurt and sonthchutney.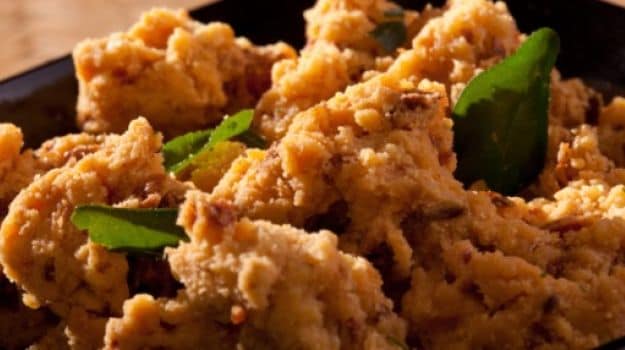 Fried Palak Chaat
All the goodness packed in one recipe. A convenient mix of lentils, broccoli and methi sprouts for your daily dose of nutrition.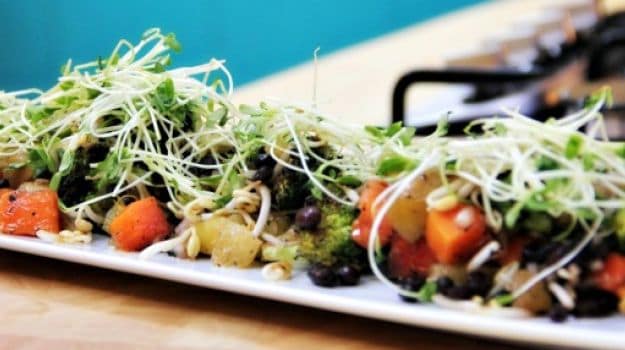 Lentils and Brocolli Chaat
Palak Patta Chaat is a healthy appetizer and is a great snack for evening tea. Spinach leaves are coated with besan batter, deep fried, and then drizzled with curd, chutneys, and masalas.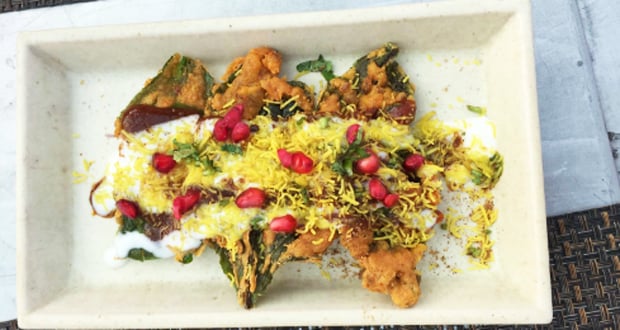 A spicy, tangy and crunchy palak chaat for those mid day meals! Photo Credit: Haveli Dharampura.
This innovative chaat consists of aloo cups stuffed with boiled chickpeas along with tangy and flavourful chutneys.


This chaat features soft and spongy rasgulla, drizzled with yoghurt, tamarind sauce, mint and coriander chutney and a melange of Indian spices.


If you are fond of eating chaat, then try this spicy and spicy chaat today.


Much like a quintessential chaat, chicken tikka chaat includes ingredients like tomato, onion, green chilli, imli chutney more.