When it comes to food, there are so many endearing qualities about the Nagas. And I particularly love my Naga friends for many culinary reasons. In their company, one gets to eat really yummy food. Nagas are hospitable and they are known for their large heartedness. Land up in any Naga home - back in Nagaland or, in any metro cities where they are increasingly making a presence, they will manifest their hospitality on the table so much so that it's hard to resist not over
eating
. They can cook a meal fit for a
king
. They will open their homes and pull out the best they have and lay them on the table. In fact, some of the best Naga meals that I have had outside of Nagaland are in two Naga restaurants in the Capital: Nagaland's Kitchen and Dzukou Tribal Kitchen. Both of which are doing commendable job of orienting a larger audience to a completely different repertoire of food.
Yes, good food is an integral part of the Nagas, inhabitants of Nagaland in India's Northeast region. Nagaland shares a border with Myanmar but there is nothing to indicate any influence in their diet from their neighbor country that thrives on noodles and more. Nagas have a distinct cuisine that stands apart from the rest of India. They relish well-prepared food which is something much more than just to fill their tummy. They eat hearty meals and make great effort to cook as well. But what do the Nagas eat? Like most of their fellow Northeasters, rice is a staple diet. With either boiled or steamed rice, they pair different dishes both vegetarian and many meat-laden dishes with rice. Accompanying it would be a couple of dishes like boiled vegetables to wash down the food and, fiery hot chutney made of either fermented fish or dried bamboo shoot or, fermented soya beans crushed with roasted tomatoes, chillies and salt to taste.
Meat and More
Nagas love their pork and beef with the same passion as Punjabis would love their Tandoori Chicken. The Nagas go few steps ahead to the point of sun drying or smoking the meat so that it can be preserved and they can enjoy it through the year. Also, when it is smoked or sun-dried, meat lends a certain flavour that is absent otherwise. Most Naga students or professionals who live away from home will invariable keep a stock of smoked meat sent from home. How do they eat their meat? What differentiates Nagas from the rest of the Northeast when it comes to their meat, lies in the way they cut their portions. They love large chunky pieces almost half or full size of a palm. Herbs like ginger, garlic and chilies are used generously to enhance the flavour of the meat. While meat is a delicacy it is not something they would take daily. At the most, they may just add a chunk or two of meat in their dishes to add some spunk. They love to eat spicy pork so, what's added into the preparation are raja chilies - large chilies that are so fiery that it can make a man cry.What's interesting is that the 16 major tribes of Nagaland have their own distinct style and method of preparing pork, beef or chicken. Perhaps what's common is their collective love and obsession for fresh as well as dried bamboo shoot that forms an integral part of the cooking ingredient. Pork is also prepared with fermented soya beans. They use little oil or no oil at all. Back in most interiors of the state every home rear animals whose days are sadly numbered. Come Christmas or any harvest-related festivals, these animals serve as the main menu for such happy occasions of the people.

The Role of Veggies in the Cuisine
While there is a perception that Nagas only eat meat, the truth is far from it. In fact, they love their greens and the different seasonal vegetables. And since Nagaland is a mountains region the Nagas rely on their thick forest and mountains that still produces exotic greens that are specific only to their region. So, vegetables are an important part of their culinary idiom. Take a dish called Hinkejvu, for instance, is a simple dish made of colocasia, shredded cabbage leaves, mustard leaves and some French beans. The ingredients are boiled in water and the real flavour comes from the assorted greens. Just a pinch of salt to taste and this is something most Nagas would have it as a part of their meal. Another dish like Akibiye which is what the Sema community calls for a simple dish made of colocasia with bamboo shoot - it has a thick gravy and goes best with rice.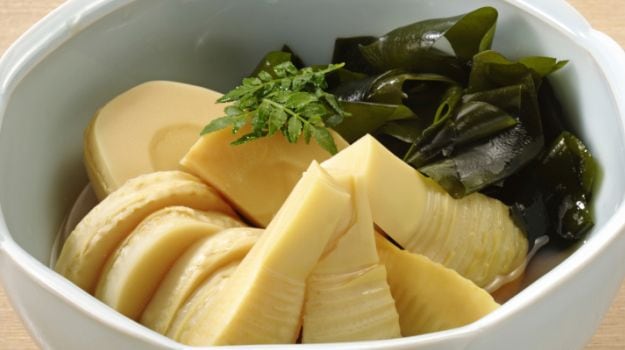 Galho, a soupy concoction, of rice and assorted vegetables, is something that is so popular among the Nagas across all communities. They mostly rely on assorted seasonal greens and flavour it with perhaps smoked beef or pork or, chunks of pork fat, if at all they decide to use non-vegetarian in it. Otherwise, a vegetarian galho which is garnished with ginger garlic or nothing at all and somewhat reminiscent of North India'skhichadi, is a popular meal-in-itself option that's even served in many local restaurants. The Ao community love their Itsuk, which is bamboo shoot prepared with herbs. Most Ao households relish this for its simplicity yet flavourfulness.


My Sema friend like Alvina Chishi who lives in Dimapur, makes it a point to introduce more greens to her children. This is something present generation of Nagas are consciously doing it - not really with an intent to move away or cut down on their meat intake but to integrate greens as much into their diet. Alvina's kitchen will invariable have pumpkin leaves that she would hurriedly pluck from her kitchen garden. She would boil the leaves with crushed ginger and add a pinch of salt and it's good to be served. There is also another dish made of Laipata or mustard leaves which is boiled in little water with chilly and salt. This is paired with rice. Their love for green lends itself a special flavor especially when they cook chicken. With little or no oil at all, chicken is prepared with lots of vegetables. Dunk into the wok some ripe tomatoes, beans and potatoes and garnished with only garlic and ginger. What you get is a really flavourful chicken dish full of nutrients.


Eating it Their Way
How do the Nagas love their food? They love is spicy and fiery and nearly every dish will have generous portions of chilies - of course there are exceptions. They make do with very indigenous herbs which means very little masala or coloring agents like turmeric. Even the lentil they prepare will have no turmeric as it derives its flavour only from lentil and ginger. They are very particular about the flavour and make do without much masalas that come laded with artificial colouring that interference with the basic flavour of the dish.
For instance, when they prepare chicken, it will be without even a drip of oil. They would first put the chicken pieces into a wok and allow the moisture to be evaporated and on a slow fire, add greens like French
Beans
, crushed ginger, garlic, spring onion, coriander and tomato. The dish retains the flavour of the vegetables gently fused with that of the mixed chicken. The food is therefore simple yet rich in nutrients. There will always be a simple dish to neutralize the oil in their pork or beef. So, a simple soupy dish is always a part of a meal to wash down the food. Over the years, I have realized that Naga food is a very healthy and delicious option that is still so under exposed.
About the Author:
Hoihnu Hauzel is a journalist and a food & travel writer. She spent over 15 years reporting and writing extensively on travel, hospitality and lifestyle for different leading dailies, untill she decided to pursue an independent writing career. Her book, The Essential Northeast Cookbook, published by Penguin, has been instrumental in introducing and popularising Northeast cuisine outside the region. She is particularly keen on food history linked with customs and traditions of the people of Northeast.
Disclaimer:
The opinions expressed within this article are the personal opinions of the author. NDTV is not responsible for the accuracy, completeness, suitability, or validity of any information on this article. All information is provided on an as-is basis. The information, facts or opinions appearing in the article do not reflect the views of NDTV and NDTV does not assume any responsibility or liability for the same.