Ramzan
is the ninth month of the Islamic calendar year. The precise time of its beginning every year is decided by the sighting of the moon and astronomical calculations. The month is one where Muslims across the world observe a fast from sunrise to sunset. It is a month of prayers, humility and abstinence. But for food lovers, it also a period where the most delicious delicacies are prepared for
Iftar
feasting. The meal that is consumed before sunrise is called
Sehri
and it is supposed to sustain you through the day. Post sunset and prayers, the fast is broken with an Iftar feast, usually eaten with family or local community. With the
monsoon
underway, you may have second thoughts about setting off to enjoy an Iftar food walk in Mumbai but we suggest you shake off those doubts and go ahead. You'll thank us later.The first question, though, is where should you go? And how do you decide what all to eat? With a plethora of options available, it is very confusing to pick one place for Iftar delicacies. You could take an organised food walk or else just take our suggestions and customise your walk as per your personal preferences. We present to you, a curated list of the 8 absolute must-haves this
Ramzan
in Mumbai.This month, all roads lead to Mohammad Ali Road. Having said that, it will come as a relief that the suggestions are not over-rated (for once). Do not think twice and head straight for Md.Ali Road for your
Iftar walk
. The entire area under JJ Flyover has a festive air through the month and the tempting aromas beckon you. Yes, it can get crowded, but that is half the fun of it. So take a deep breath and head straight for where the crowds are headed. This is as exciting as it gets. However, most of the food here is
street food
and given the crowd, it may be best to leave children back home, if that is an option.If all that did not caution you off, follow this guide to embark on the food walk of your life - 1) Start with the best, the famous
Nalli Nihari
at Chinese-n-Grill (strange name considering the food it's famous for) is popular for a reason and begs to be tried. The restaurant opens its doors at 8.30 pm so you should plan accordingly (no early bird luck here). Tender
meat
falling off the bone is cooked in delicious gravy, spiced just right. Lap it up with hot and soft tandoori
rotis
.
122/132, Barkat Manzil, near Minara Mazjid, Mohammad Ali Road
2)
Surti Barah Handi
is a visual delight and sure to get you clicking away with your camera. As the name suggests, 12 large clay pots are lined up right outside, each in the process of slow cooking an authentic delicacy. This process of slow-cooking the
meat
lends it a super-soft texture and by the time it is ladled out, it is almost one with the
gravy
. You can also try the
Paya
, which comes highly recommended. The huge naans served alongside are legendary.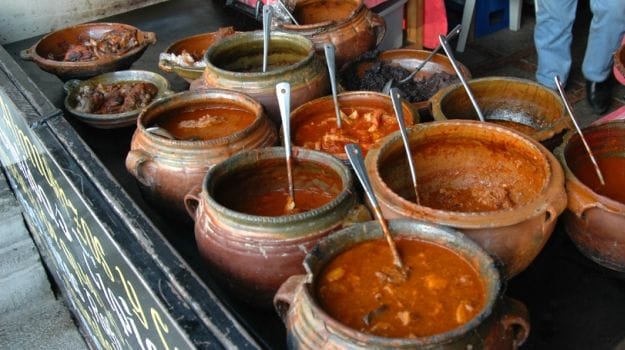 Dharamsey Cross Street, near Raudat Tahera Mausoleum, Opposite Crawford Market
3) Those
quail
dishes in MasterChef Australia had you pining for some? We're two steps ahead of you. Presenting – Quail, Indian-style. Order a plate of
Tandoori Quail
from the stalls opposite Islahi Dawakhana. Simple plastic chairs offer you the chance to rest your feet before you embark off on your next food-stop. The dish is a tiny portion but the
flavour
of the meat compensates for its size. Feel free to order generously.
4) One of the most popular pit-stops in this area and my personal favourite is a place called Noor Mohammadi. A legend of sorts, much like Karim's in Delhi, it has been serving delicious fare for close to a century. It is popular with film stars, celebrities and business honchos alike. The
recipes
may be centuries old but the flavours have only gotten better with time. We highly recommend the interestingly named Sanju Baba
Chicken
(allegedly Sanjay Dutt's favourite dish), a delectable dark semi-gravy chicken dish that will have you licking your fingers. The thick and dark gravy has been infused with whole spices and is lip-smacking delicious. There are tons of recommended dishes here, if you have the appetite for more. The Chicken Hakimi,
Tandoori Chicken
dunked in a tasty
marinade
and
Shami Kebabs
each have their fan following. The Nalli Nihari here is a tad too oily and perhaps not as well flavoured as the rest of the dishes.
179, Wazir Building, Abdul Hakim Chowk, Bhendi Bazaar
5) Have a
sweet
tooth? Take a break from all the meat and indulge in a portion of
phirni
at Suleiman Usman Mithaiwala (near Minara Masjid). Popular for its sweets, the unique
Sitaphal Halwa
begs a try too. However, if all you need is a refreshing drink, head to Imaam Sherbet and sip on the traditional pink milk-based watermelon
sherbet
that is popular during Ramzan.
41 F/G, Mohammad Ali Road
6) No Ramzan Food Walk can be complete without trying some succulent
kebabs
. Your best bet is to head straight to Haji Tikkas in Bohri Mohalla which offers mouth-watering kebabs like Khiri Kebabs and
Kofta
Kebabs.
Khara Tank Road, Bhendi Bazaar
7) The fast is traditionally broken with a date or a glass of water. It can also be broken with a dish of delicious
Haleem
. This dish, made with
wheat
, lentils and meat, is a best seller in this month and otherwise. Get your fill at Jaffer Bhai's Delhi Durbar. Ask any local and there is a good chance that they will vouch for their
Haleem
(called Khichda in Mumbai). The
Biryani
served here deserves a special mention as well. They even have an outlet in Mahim so in case you can't make it to South Mumbai, you can still relish some Iftar delicacies.
18, Lady Jamshedji Road, Opposite St. Michael's Church, Mahim (West)
70, Dinath Building, 195/197 Patthe Bapurao Road, opposite Alfred Cinema, Grant Road
8) Last but definitely not the least, try to make space for at least one
Seekh Kebab
at Al-Madina. The large crowd that throng the place speak volumes about the popularity and taste of the food served here. Juicy seekh kebabs that melt in the mouth are served with
mint
,
lime
and warm
pav
.
Minara Mazjid Lane, Mohammad Ali Road
That may seem like a lot of food but all that walking helps you build up an appetite. This
Ramadan
, head to town and indulge your taste-buds. You'll come back with plenty of tales to tell for months to come.