I remember visiting my classmate, Dinesh Masand when I was in high school in Kolkata. It was during my summer break and I had gone to his house to pick up some study notes. Dinesh asked me to join him for a meal. I was tempted to so do but politely declined as I didn't want to impose on his family. That's when Dinesh explained to me that he belonged to the Sindhi community and that they follow a
tradition
where they offer whatever is cooked at home to anyone who drops in at meal times. And so, I could not refuse the offer. I didn't and I had a lovely meal.I moved to Mumbai a few years later and have met many Sindhis since then and in each of them I have seen the same spirit of generosity that Dinesh had displayed. From the late TL Gwalani, whom we fondly called uncle, and who would often ask my wife and me to join him for tea. It was in his house during the Ganpati festival that we first had
Tuk
,a deep fried masala sprinkled Sindhi potato dish with
dal
and rice and fell in love with it. There was Meghna, a fellow market researcher, who would offer me the hearty Sindhi Sai Bhaji made by her mother when we had lunch together in the office canteen. Then, there was my food blogger friend, Alka Keswani, who packed a lip-smacking Sindhi
parantha
-like dish called Koki for me when she met me at a mall at Thane and knew that I had a long drive back home.
My first taste of Sindhi food was that of the famous
Dal Pakwan
. This was at a sweet shop called Tharu in Mumbai's suburb area, Khar, where many Sindhis reside today. Dal Pakwan to Sindhis is what
Tandoori Chicken
is to Punjabis,
Maccher Jhol
to Bengalis and
Dhansak
to Parsis. A dish that unfortunately generalizes a cuisine to outsiders.Of course, there's a lot more to Sindhi cuisine and I decided to begin my exploration by talking to chefs, restaurateurs and food bloggers from the Sindhi community to understand a bit more about it. To the very talented chef,
Vicky Ratnani
, frugality lies at the heart of modern Sindhi food. He points out that Sindhis were a displaced community with many moving away from there home in Sindh in modern Pakistan to India and to countries across the world. Having to rebuild their lives from scratch led to them valuing and treasuring what was available to them in their new hometown.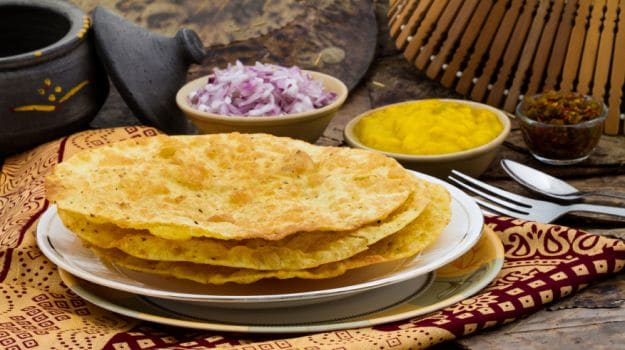 An example of this, Chef Vicky points out, is the lotus plant. Sindhis use every part of the plant – the flower, the stem, the bud, pods and even the seeds within them - in various dishes. Not just this, Sindhis use an abundance of vegetables in their food ranging from ridge-gourd to root vegetables such as
carrot
. (Also read:
5 Delicious Ridge Gourd Recipes
)The spices of choice are
cumin
and
coriander
and many dishes have tomato as a base though not always.
Besan
or
gram flour
, Chef Vicky tells me, is used abundantly in Sindhi food. Vicky has fond memories of travelling across Mumbai as a kid to the houses of various Sindhi aunts, grand mothers and cousins to try their food. He shares that even in a city like Mumbai, where one gets all vegetables through the year, his grand mother would rather focus on cooking vegetables which were in season. As I spoke to him, I realized that the celebration of vegetables that he grew up around must have influenced him to do TV shows today dedicated to vegetarian food and even write his book, Vicky Goes Veg, and use seasonal produce in his restaurant in Mumbai, The Korner House.Sindhi food is not all about vegetables. Mutton is an important part of their cuisine. Vicky fondly talks about small Sindhi eateries and caterers in Kalyan (a suburb outside of Mumbai) which sell goat meat by the kilo and offal too. The love for offal, he points out again, comes from the spirit of frugality and the realization that nothing should go waste. (Also read:
10 Best Mutton Recipes
)To me, this is another example of a community that has leveraged the harshness of their circumstances to come up with culinary brilliance. Sindhis revere their
fish
too. 'Even the vehicle of the key Sindhi deity, Jhulelal, is a fish called pallo,' says Vickyas he breaks into a grin. Pallo is also known as Bhing among the Maharashtrians in Mumbai and is a variant of the Hilsa fish that Bengalis worship.This was not the only Sindhi-Bengali connection that I found though. There is the love for goat meat that connects both our communities, and there's more. I am referring to the good old
aloo
or potato here. People often marvel about how we Bengalis add potatoes to everything. Well, turns out that the Sindhis do that too according to
Chef Saransh Goila
whose mother is Sindhi. Saransh is a TV chef, author and now an entrepreneur too. He has opened a food delivery outfit in Mumbai called the 'Goila Butter Chicken' but there is more than butter chicken on his menu. One of the most popular dishes on the menu is the 'Sindhi Mutton Curry', which is Goila's tribute to the maternal side of his family. According to Saransh, what makes this dish 'Sindhi' is a mix of coriander powder and coriander leaves used for making the base. And as I've already mentioned, coriander is one of the core
spices
in a Sindhi pantry.What struck me about his mutton curry was how light and home-like the dish was. There was no layer of oil floating on the curry nor was it high on
chilli
heat. It was the sort of dish you would expect someone's grand mother to cook for you.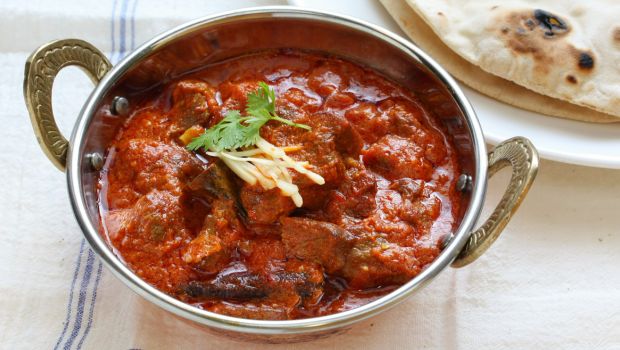 When I told Goila about this, he impishly smiled and said, "Not really. If I was making this for you at home, I would have added potatoes to it." Turns out that the Sindhis love adding potatoes to their meat curries just as we Bengalis do to our Mangshor Jhols. (Also read:
10 Ways to Use Potatoes
)
Going beyond the beginner's level
My conversation with Saransh and Vicky left me hungry for more. So, I reached out to Alka Keswani, who writes an award winning food blog called Sindhi Rasoi to understand more about Sindhi food. I wanted to know about Sindhi dishes that I should try beyond the commonly known ones like Dal Pakwan, Ragda Pattice and Chhole Samosa. Alka told me that any cuisine is shaped by the topography of the region it originated in and that this is seen in Sindhi cuisine too. Sindh is blessed with a variety of cereals, fruits and vegetables and even fish thanks to the Indus river that flows through it. Alka suggested some Sindhi dishes to look out for if you ever get invited to someone's house. I am going to share these here and pin my hopes on the famed hospitality of the Sindhis to get to you to try these.
1. Juar Jo Dodo:
It is
roti
made with
jowar
or
millets
and often has green garlic mixed into it.
2. Bhughal Bhee
: Lotus stem curry
3. Phote Bhughal Teevarn:
A Sindhi mutton curry where cardamom (phote) is generously used.
4. Kok Pallo:
Hilsa fish stuffed with a green pounded mixture. This is
tawa
fried or wrapped in a
roti
and roasted, and was originally roasted in a sand pit. The green masala is a mixture of green chillies, coriander leaves, garlic and ginger to which
turmeric
, coriander powder and
amchoor
powder are added.
5. Stuffed Lotus Stem Tikki:
It is made by stuffing boiled
lotus stem
pieces with a green masala. This is then coated with a batter (
besan
or gramflour) and fried like a Batata Vada.
6. Kadhi Chaanwaran:
Rice with Sindhi
kadhi
(a besan-based preparation to which a lot of vegetables are added). This could be paired with sweet
boondi
or fried savoury
alu tuk
or had as a one dish meal.
7. Saibhaji with Bhugha Chaawran:
Rice cooked with caramelised onions and
garam masala,
which is paired with
saibhaji
, a flagship Sindhi
sabzi
made with spinach, lentils and vegetables.
8. Tuk:
Crisp double fried potato or even
arbi
9. Teevarn:
Goat meat cooked in a simple onion and tomato gravy. The mutton is slow cooked in spices till the gravy gets a silken texture.
10. Seyal Machchi:
The preferred fish is Hilsa, or Pallo as the Sindhis call it. First, the onions are slightly sauteed and then, tomatoes and chillies are added to it and cooked on a low flame till you get a
do-pyaza
like finish. Shallow fried fish is then added along with spices such as turmeric, coriander powder and
garam masala
powder.
About the author
:
Kalyan loves to eat and he loves to talk about all that he eats. His wife urged him to start writing about it, otherwise she would have to hear it all. He blogs as 'finelychopped' and is the author of The Travelling Belly published by Hachette Publications.
Disclaimer
:
The opinions expressed within this article are the personal opinions of the author. NDTV is not responsible for the accuracy, completeness, suitability, or validity of any information on this article. All information is provided on an as-is basis. The information, facts or opinions appearing in the article do not reflect the views of NDTV and NDTV does not assume any responsibility or liability for the same
.