"My most fond memory of biscotti is actually not eating them
(even though I love them)
, but of the
kitchen
becoming saturated with enticing whiffs. Just hearing the word biscotti takes me back to
Christmas time
... Watching my mother and grandmother passionately preparing biscotti, and every now and then glancing at the window seeing snowflakes fall gently", reminisces Oscar Balcon, Owner of
Artusi Ristorante e Bar, New Delhi
.First things first, what's the difference between biscotti and biscuit? Biscotti are basically long, dry, hard biscuits that are baked twice. They are first baked in a log, then sliced into individual pieces and baked again. Most cookies or biscuits get stale, but biscotti are technically low in moisture to begin with so they have a longer shelf life. According to the writings of Gaius Plinius Secundus, "they
(biscotti)
would be edible for centuries". And did you know: 'biscotti' is actually plural for 'biscotto'?
Bis
means twice, and
cotto
means baked, referring to the original method of
baking
.While the modern biscotti are associated with the Tuscan region of Italy, they actually trace back to Ancient Rome. Legend has it that the Romans discovered that bread which was baked twice, lasted longer. Somehow the concept of twice-baking
bread
was used with
cookies
, and the biscotto was born. The first documented biscotti recipe was in fact found in a manuscript written down by a resident of Prato from the 18th century. At the time, biscotti were more about convenience food for
travelers
and the Roman Legions, than a pleasurable treat. After the fall of the Roman Empire, there was sadly no culinary development.It was only during the European Renaissance that the biscotti re-emerged in Tuscany, thanks to Antonio Mattei. He served them at his historic bakery in Prato with the local
dessert
wine, Vin Santo. Biscotti's dry, crunchy texture was deemed to be the perfect medium to soak up the wine. Centuries later, many still agree that dipping biscotti into
wine
or
coffee
is a perfect way to end a meal, or to leisurely whilst away an hour at a café. "Biscotti
(also known as cantuccini or your coffee's best friend)
became so popular that every province developed its own flavoured version in
Italy
. From the originally flavoured biscotti with almonds to polenta, corn, chestnut, anisette,
chocolate
and
orange
", says Chef Diego Martinelli,
Le Cirque, The Leela Palace, New Delhi
.
How to Make Biscotti at Home
Kainaz Messman, Chef and co-owner of Theobroma says, "Some like biscotti wafer thin, but I like mine thick and chunky accompanied with a hot beverage like
coffee
or
tea
, or even wine. It really complements the flavour of the biscotti. While making biscotti, the dough should be handled like a biscuit. Many people go wrong during this step as they tend to overwork the dough. It's a long and slow process since you're baking twice, so you need to be patient".Chef Mitali, Bombakery, New Delhi says, "After the first baking, it is very important to allow the biscotti to chill well, so that you get a good crumb without compressing it".Kainaz adds, "At Theobroma, we freeze the log after the first baking, so it cuts easily without breaking. To make it crispy, we brush the log with whipped egg white for a nice glossy finish before putting it in the oven for the second round of baking. Our most popular biscotti is orange zest and anise biscotti with almonds for added crunch".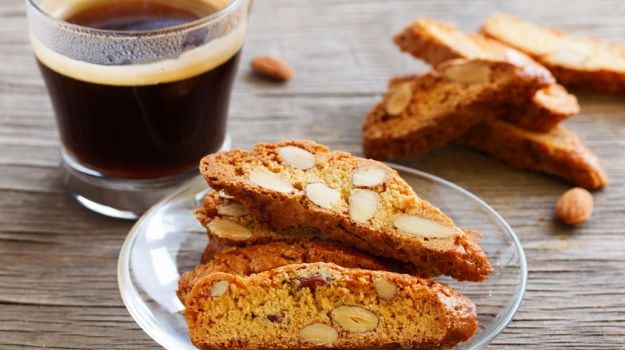 "Krystina, the pastry chef at Cafe Grumpy's, a quaint little coffee shop in New York City, gave me her
almond
biscotti recipe. I stopped using any other biscotti recipe and started making these in double batches, twice a week instead. They are perfect - crunchy but not rock solid, dippable, dunkable and just divine. It tastes as good with
breakfast
cafe au lait
as with late night
green tea
. At Bombaykery, I often make
chocolates
with all the leftover crumbly pieces", says Chef Mitali.
Here's the recipe:
Ingredients:
1 ½ cups flour
1 ½ tsp baking powder
½ cup cornmeal
1 cup castor sugar
2 eggs
1 ½ tsp vanilla essence
3/4 cup sliced almondsMethod:
1. Preheat oven to 175 degree C, and line a baking tray with butter paper.
2. Beat the butter and sugar with a hand beater for 3 minutes on medium speed till very smooth.
3. Add the eggs and vanilla essence and continue beating for 2 more minutes until the mixture is fluffy.
4. Add dry ingredients and mix on slowest speed just enough to incorporate the ingredients.
5. Toss in the almonds and stir. Note: Do not over mix!
6. Scrape half of the dough onto one side of the baking tray and use your fingers to roll the dough into a log about a foot long and 1.5 inches wide.
7. Repeat for a second log on the same baking tray.
8. Bake for 15 minutes or until the logs are lightly golden but spring up when you touch.
9. Transfer onto a cooling rack and cool for 30 minutes, and preheat oven again to 175 degree C.
10. Transfer the logs onto a cutting board. Cut the logs into 0.75 inch thick slices using a bread knife.
11. Arrange slices on the baking tray again and bake for another 15 minutes, or until they are golden and firm. Transfer them to racks and allow to cool.
Biscotti
Recipe by Ruchit Harneja, Chef de Partie, The Taj Mahal Hotel, New Delhi
Elevate your coffee hour with these delectable biscotti. All you need is
butter
,
sugar
,
eggs
, flour and baking powder. Seriously, it doesn't get easier than this.
Classic Almond Biscotti
Recipe by Benoit Vidal, Executive Pastry Chef at Shangri-La Hotel, Bengaluru
Ingredients:
3 cups flour
1 1/3 cups almond powder
1/2 tsp baking powder
A pinch of salt
1/2 unsalted butter, soft
2 cups sugar
2 eggs
3 tsp Amaretto liquor (optional)
2 cups whole almond, roughly choppedInstructions:
1. Preheat your oven at 170 degree C.
2. In a bowl, mix flour, baking powder, almond powder and salt.
3. In another bowl, mix the butter and sugar, with the electric mixer, until it gets slightly fluffy. Then add eggs one by one and mix until you get a smooth mixture.
4. With a spatula, add the dry ingredients and mix until you get a smooth mix. Then add chopped almonds and liquor.
5. On the table, spread some flour, then shape the dough (around 25cm long). Put it on the baking tray, and bake for 30 minutes at 180 degree C, until the dough gets a light golden colour.
6. Take out of the oven, and let it cool down for 20 minutes. Cut into slices of 2 cm thickness with a bread knife.
7. Transfer biscotti on the baking tray, and bake again for 20 minutes. Allow to cool completely, and then serve with a piping hot cup of coffee.
What I love about biscotti is that they go from simple vanilla to gourmet
apricot
-honey-thyme in a snap. It's all about the add-ins. I like dipping or drizzling the finished biscotti with
dark chocolate
. If you want chocolate in every bite, you can also add cocoa powder to the recipe. Just subtract 1/4 to 1/3 cup of flour from the recipe and replace it with cocoa powder and voila!The flavourings are only limited to the imagination of the baker. Ruchit Harneja, Chef de Partie, The Taj Mahal Hotel, New Delhi says, "There are many flavour combinations that work well with biscotti. A few of my favourites are Mandarin orange and blackcurrants, almond and fennel, white chocolate and cashew nut, milk chocolate and
pecan nut
. I also love Rosemary and Parmesan Crusted Biscotti"."You can throw in dried cherries,
cranberries
and apricots into the dough, even add a splash of rum. You can also whisk some spices into the flour mixture like ground
cinnamon
,
ginger
,
cardamom
, or even
black pepper
, and substitute almonds with walnuts, pecans, hazelnuts or cashews", suggests French Pastry Chef Mitali, Bombakery, New Delhi.