36 years later, with her heart still in
Thailand
, Chef Veena Arora has a never-ending zest for life and an undying love for food. Hers is a journey of a passionate home chef turned award-winning chef. Self-taught and determined.Chef Veena was born and brought up in Thailand, in a small town called Phathalung, near the Malaysian border. Her father had served in (Netaji Subhas Chandra Bose's) Indian National Army and eventually settled in Thailand. She may be Indian by origin, but growing up in Thailand led her to pick up the nuances and flavours of
Thai food
at a very early age. Her marriage to an
Indian
and her subsequent moving to India in 1980 did not stop her from pursuing her tryst with Thai food. "Food constitutes an integral part of the
Thai
culture, and most of the kiosks are run by women. Across Thailand, you'll basically find women in the workforce. When I moved to Delhi, I was surprised to find very few women working". Chef Veena started out at the Silk Orchard, The Holiday Inn (now the Lalit) in Delhi as a Thai Food Consultant during the year 1994. She started out at a time when kitchens outside the home were a man's turf. She felt like the odd woman out in a man's world, but nothing stopped her from become one of the pioneers of
Thai cuisine
in India. "I have a gazillion recipes since when I first started cooking. Some in a tattered folio, and some sheets just exploding out of cabinets that my daughter refuses to let me throw away".It was in 1996 that she joined The Imperial as their Consultant Chef for their yet to be opened South-East Asian
restaurant
, The Spice Route. Chef Veena has since been experimenting in the kitchen and churning out different menus for different seasons as their Chef de Cuisine. "I realised I was too soft-spoken for the business and had to toughen up, speak up to assert myself". And oh she did! So many years later and tired of yelling, Chef Veena now sits on a chair in The Spice Route kitchen with a mic in hand to scream at the staff.
(No, seriously)!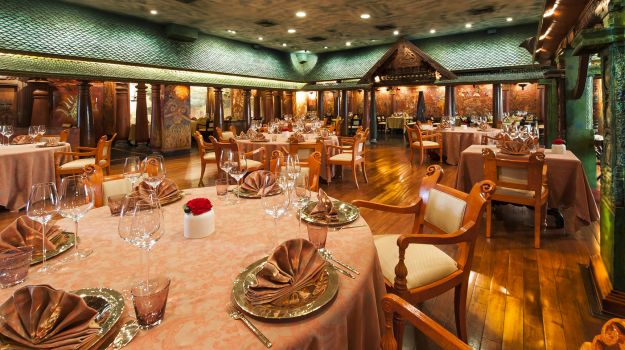 In 2012, she was not only awarded as the Best Lady Chef by the Ministry of Tourism in India, but the former President, Ms. Pratibha Patil, presented her the award. Did you know that Persis Khambatta and Shabana Azmi were regulars at the restaurant? Even President V. Venkataraman and his wife celebrated their 50th anniversary at the
restaurant
.
Q&A with Chef Veena Arora @ The Spice Route, The Imperial Hotel
1. How did your love affair with food start?
I have grown up seeing my mother and grandmother cook Thai food. My family had a small restaurant in Thailand, and my earliest food memory is associated with the whiff of
curry
paste. My love for food is what drives me to cook.
2. What is the first dish you learnt to cook?
Mee Goreng
(Stir Fried Noodles with
Seafood
). I tried it in Singapore and fell in love with the flavours. As soon as we returned home, I recreated the dish.
3. What's your favourite Indian dish?
My husband's mutton curry. It's the best I've ever eaten.
4. A food trend for 2016?
The traditional style of cooking will come back in a big way. Many chefs are already going back to roots and shaping their menus around authentic dishes. They may be presented differently to the ever evolving diner, but chefs are maintaining original flavours, understanding the importance of quality ingredients, as well as
healthy
and historic recipes.
5. Living in Delhi for over three decades now, have you developed a palate for North Indian food or are you still partial to Thai food?
Definitely Thai. I can't do dal roti sabzi day in and day out. Delhi may be my favourite foodie city in India, but Thailand will always be home. Just the fragrance of Thai food makes me hungry. It's my comfort food, food for my soul. Till date when I go back, I cycle at the age of 60 plus and thoroughly enjoy the street food.
6. What is the one ingredient that you can't stand?
Mustard oil, the smell just gets to me. The help in my house is Bengali and tends to cook a lot in mustard oil. While I enjoy the flavour, I shut my bedroom door whenever she's using it in the kitchen.
7. What is your favourite ingredient?
Fish sauce, hands down.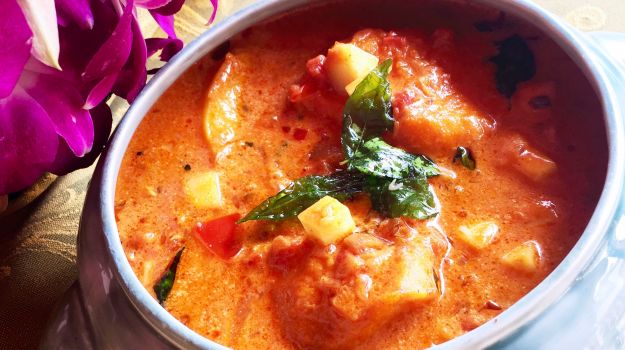 8. A dish at The Spice Route you eat the most?
Kaeng Kheow Waan Kai.
It's a Thai Green Curry with chicken that I've grown up eating. It lingers of gorgeous basil and lime leaves, and every spoonful takes me back to my childhood.
9. What advice would you give to home chefs who are inspired by your style of cooking?
Go by instinct. If you're passionate about food, you'll know what to do so don't stick to any recipe blindly. Thai food is all about balancing
sweet
, sour, spicy and salty flavours. If you're making a savoury dish, add a pinch of sugar to balance the flavours. And if you're making a sweet tangy dish, add a pinch of salt to take the edge of. Also, unlike Indian food, you can't overcook Thai food. The flavours will disappear, so be careful.
10. Is there anything that you would never serve at your restaurant?
No. My biggest challenge is to keep my guests content, so I customize my food accordingly. Once a group of guests asked me not to use fish sauce. I was in shock, but instead of panicking, I made stir-fries using salt and just seeing them relish it, made my day.
11. The worst comment you have ever heard about your food?
I was unwell and having a bad day in the kitchen. A customer once told me, "This is the worst food I've eaten in a long time". I was shocked and asked him to come again. 6 months later, he showed up, contacted me and told me he loved the food.
12. Your go-to restaurant in Delhi?
R.E.D at The Radisson Blu, Noida. The chef is from Singapore and I just love his authentic style of cooking.
13. A dish at The Spice Route that was very difficult for you to create?
Yum See Kler
. Or as I like to call it, 'the salad of four friends'. I knew what I wanted to create, but it took me a while to pair the right sauces with raw carrot and papaya, and raw as well as ripe mangoes. It's one of my favourite dishes on the menu now. Tangy and refreshing!
14. What do you eat when you're off duty?
Thai food
(laughs)
. I make Thai food at home also. I get greens back from Thailand. Even my breakfast in the morning is typically an omelet that celebrates a Thai ingredient. You only get morning glory in India during the monsoon but in Thailand you get it all year round. I make morning glory here with potato, and add a pinch of turmeric to enhance the flavour.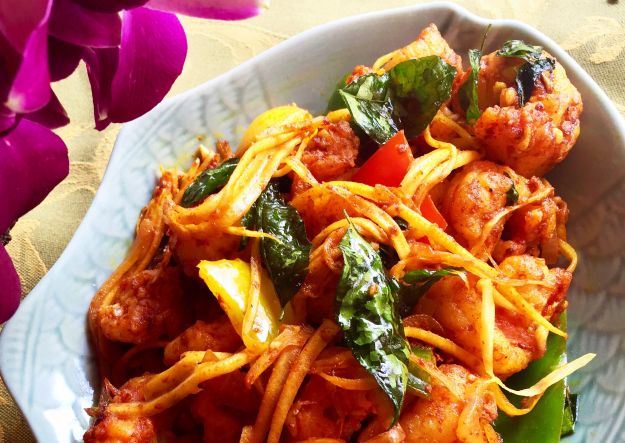 15. What is your favourite meat?
Prawns
. I also love
pork
, but in India I don't end up cooking with pork all that often.
16. Traditional or Fusion?
I love authentic flavours. But if someone hands me an ingredient, I can't resist experimenting with it. The other day I found macaroni in The Spice Route kitchen so I made Pad Kra Pow (Thai Basil Pork and Chilli) with it.
17. If not a chef, what would you do for a living?
I've been doing this for 36 years and I really can't imagine the day I won't be a chef. But someone once told me that I would make a damn good lawyer (chuckles), and I'll never forget that.
18. The best compliment you have ever received?
The Thai Princess once told me, "Outside Thailand, your Thai food is the best I have ever eaten".Want to cook like one of India's best chefs? Scroll down for her mind blowing recipes:
Thai Green Chicken Curry
Glass Noodle Salad
Raw Mango Salad
Pla-E-Saan
Chicken Cashew Nuts
Raw Papaya Salad
Khao Klukh Krapi