Photo credit: Instagram/40aprons
Unless you've been hiding away under a rock, you'll know of the flood of diets that have washed over the food-sphere, in the last several years. There is the g
luten-free
diet, the 'fasting' diets, the
ketogenic diet
and a glut of others, all claiming to annihilate fat, and shrink chronic health problems. Of these, the Paleo Diet is probably one of the most popular.The Paleo diet harks back to our hunter-gatherer fore-bearers, and emulates their diet. As you can imagine, this vastly cuts down on the range of food that is available to followers of this diet. Anything processed is automatically removed from the frame, and so are colas and other
fizzy drinks
.
Trans-fats
masquerading as 'hydrogenated' or 'partially hydrogenated' oils are also to be avoided. So far, so good.
However, also on the list of foods to be avoided, are refined sugars, including artificial sweeteners and high fructose corn syrups (this means no store-bought pastries, cakes and
ice creams
), grains (no bread, pasta and pizza), dairy, legumes and alcohol (although in recent years, red wine has been okayed, thanks to antioxidants). Some versions of the Paleo diet also eliminate potatoes.(Also read:
Should We Go Back to Eating What Our Ancestors Ate
?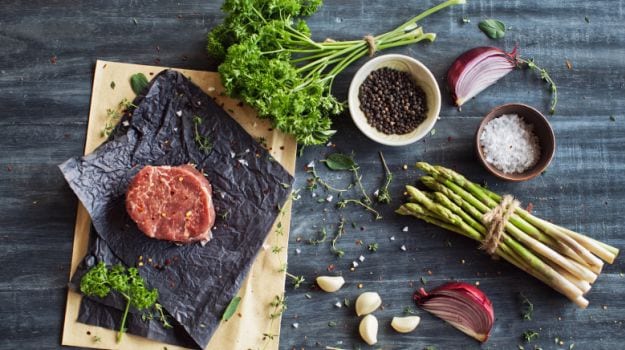 And so the burning question is, what then, is available for us to eat? Fish and seafood (preferably not farmed), meat from animals that have been grass-fed, fruit, vegetables, eggs, nuts, seeds, and
healthy oils
such as avocado, olive, coconut,
walnut,
etc. Thankfully, dark chocolate (70% cocoa or higher), also makes the cut as an occasional indulgence.It is important to note here that mileage may vary, depending on your body type and any pre-existing medical conditions. Besides, many scientists and medical practitioners are wary of eliminating entire food groups, and question its effectiveness. A lack of dairy, for example, may lead to
calcium
deficiencies, which is why it is important not to plunge into any diet without being fully cognizant of its repercussions.
A Question of Paleo Dessert
As you can imagine, without sugar and dairy, and grains, it becomes exceedingly hard to put together a traditional dessert, such as a creme brulee, a
mousse
, a cheesecake, or a
custard
. And yet, where there is a will, there is a way. There are many inventive ways of putting together Paleo-friendly ice creams, pies, biscuits and even cheesecakes! The Paleo-friendly chocolate ice-cream, for instance, is made of whipped, frozen bananas with the addition of melted
dark chocolate
- it's absurdly quick, ridiculously easy, and a great way to get in a portion of fruit. Or just try my very simple mango 'nice' cream, perfect for an Indian summer.
1. Mango 'Nice' Cream
Ingredients:
Frozen banana 1, loosely chopped
Mango 1
Almonds 10 grams
Method:
Make sure your banana is properly frozen before you throw it into your blender. Blend and keep blending for a couple of minutes until the banana is completely smooth and creamy. Then chop up your
mango
, and blend it with the banana in the blender, until it becomes a smooth paste. Next, chop up your almonds, and stir them through the mango-banana nice cream. Serve immediately.(Also read:
7 Easy Homemade Ice Cream Recipes
)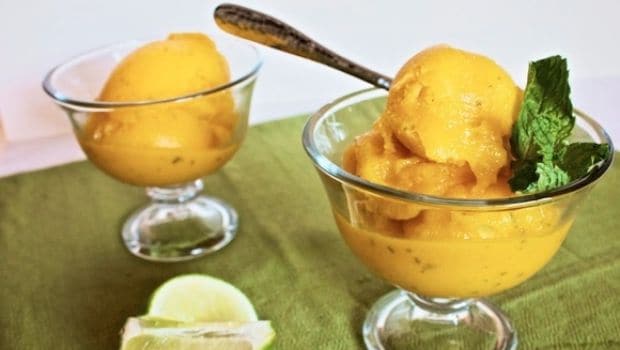 2. Banana Pudding
Ingredients:
Coconut milk 1 cup
Vanilla essence
Strong, brewed coffee 1/2 cup
Banana 1
Honey 1.5 Tbsp
Almonds (or any nuts of your choice) 1 Tbsp
Method:
Whip the
coconut milk
with the vanilla essence. Then, on medium heat, stir the coffee into the coconut mixture, and transfer into a see-through serving bowl. Cool in the fridge, preferably overnight. Just before you are ready, slice the banana into roundels and fry for one minute on either side, or until golden. Chop the almonds in the meantime. Pour the honey over the
coconut
and then layer the
bananas
on top. Finally, sprinkle with the nuts and serve. PS. You can substitute maple syrup for honey, if you prefer, or you could leave them out completely, if you find the bananas sweet enough on their own.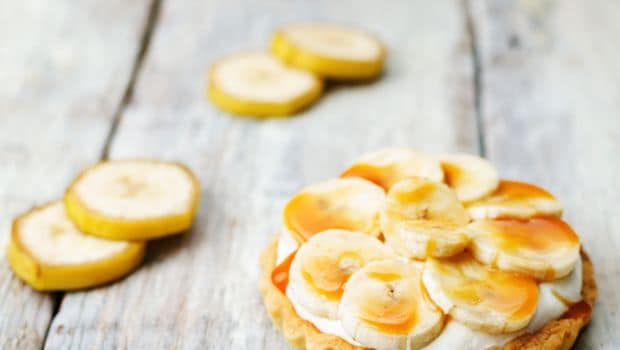 3. Paleo Chocolate and Fruit Cheesecake
You'll get a plethora of Paleo-friendly
cheesecake recipes
, if you trawl through the Internet. Unfortunately, most are made from somewhat difficult-to-obtain ingredients such as
coconut
flour. Instead, I have a nut-based version that may not fool the foodies, but it should scratch that cheesecake itch.
Ingredients:
For the Base:
Almonds 3/4 cup
Almonds 2 Tbsp (for almond butter)
Coconut oil 1.5 Tbsp (room temperature)
Honey 1.5 Tbsp
Salt a pinch
For the Filling:
Almond or
cashew
butter 2 Tbsp
Dates 3/4 cup
Avocado 1
Unsweetened cocoa powder 2.5 Tbsp
Banana 1 (optional)
Method:
Grind the 3/4 cup
almonds
into a powder, and set aside. Next, take the 2 Tbsp almonds and grind them until they become a powdery meal, but then continue grinding until the texture softens and becomes creamy, like a nut butter. This happens because the almonds release their
natural oils
. It shouldn't take more than ten minutes, depending on your grinder. Add all the base ingredients together into a bowl, until a sort of flour forms - feel free to use your fingers. Then pat it down into a slightly high-walled flat dish (the mixture is prone to softening very quickly) and freeze.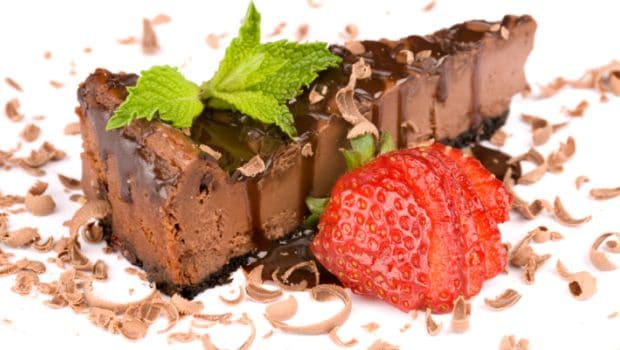 If you have a ready
nut butter
, that's fine, otherwise, just grind up the nuts of your choice until they become creamy and smooth. Next, bung in the
avocado
together with the
cocoa powder
and blend. Dice and chop up the dates, and toss them in. Blitz until everything is mixed. At this stage, please test for sweetness and texture - you want a creamy, spreadable mixture. Add more dates for sweetness, or you could even chop up a banana and throw it in. (Hint: You can even use my filling mixture as a Paleo substitute for
chocolate mousse
! You'd be surprised how creamy and mousse-like it tastes.) Once fully blended, spread on top of the frozen base. Serve cool.
About the Author:Meher Mirza is an independent writer and editor, with a focus on food and travel. Formerly with BBC Good Food India, she loves anime, animals and artsy things but also comics, technology and death metal.Disclaimer:The opinions expressed within this article are the personal opinions of the author. NDTV is not responsible for the accuracy, completeness, suitability, or validity of any information on this article. All information is provided on an as-is basis. The information, facts or opinions appearing in the article do not reflect the views of NDTV and NDTV does not assume any responsibility or liability for the same.