Steamed Betki"When you eat the food blindfolded, you can make out that the food is from some part of India. But when you remove the blindfold and see the plate, you wonder whether this is Indian food," Chef Ravitej Nath.
There is a charming cunningness in the cuisine at Amaranta at The Oberoi, Gurgaon. A certain delicious deception. It manipulates the mouth. Like a magician does.
Or else, what can explain a Garlic and Sesame Flavoured Focaccia. Potato and Chaat Masala Soft Rolls. Even Naan with Pesto dripping down its eyebrows? And then the salts offered to mix in the olive oil, to mop these breads with: Vepillakati, Goan Spices and Lentil with Curry Leaf. As they mingle unhesitatingly with the oil, they morph into a chutney. You can't help but secretly marvel at how the bar has been raised with something as routine as the bread basket.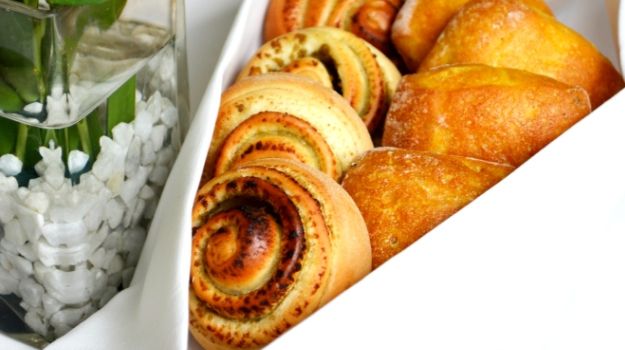 Every magic act commences with a hurrah, you think. Will the enigma endure? Just then the amuse bouche uncovers the veil around its face. And what does she look like?
There is Vasanth Neer: Lemon water with mint and honey in a shot glass. Panyaram: Made of rice with curry leaves and shallots. But what steal your heart are the Green Gram Dosa Cigars. As you bite into each, a magical avocado mousse pours its heart out to you.
The soups stun you as well.
The Tomato and Lentil Plunger Rasam: chintapandu meets citron. Pineapple doing the salsa with pepper. Interesting. Until you turn your attention to the Pondicherry Pouillabaisse: French Bouillabaisse with an Indian influence from settlers along the coast. Seafood broth with curry leaf, green chilli and tomato, served with crab pocket. And a hammer to break the crust.
Just then, the appetizers begin their flirtatious dance.
Prawns are arrogant people. You can tell a good one by the way its head is held high. The Pepper Fried Prawns are firm and juicy. And the accompanying Bloody Mary sorbet, heady with delight.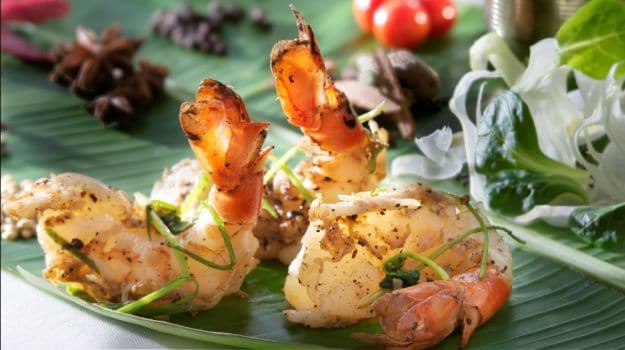 Pepper Fried PrawnsTo rewrite the rules of the Kobiraji Cutlet requires both courage and confidence, And then to seat it down with a mix of kasundi and ketchup is nothing but heroic. And heroic it was. The chicken tender. The flavour firmly implanted on your tongue.
After such pageantry, a pause is mandatory.
The sorbet had the flavour of champagne. And it came with the frills of liquid nitrogen. Which was quite unnecessary. Reminded me of a brilliant advertising campaign that said, "When you make a great beer, you don't make a great fuss."
The curtain came down on the plate. And as the lights in our eyes lit up, we saw a Rooibus tea decoction with orange zest; hint of cinnamon and mint shaken with freshly squeezed lime juice and sugar syrup and topped up with soda. Exhilarating. The Kerala Fish Curry was light yet robust. But it was the accompanying bacon and coriander rice that made one skip a beat. What a charming coalition was that.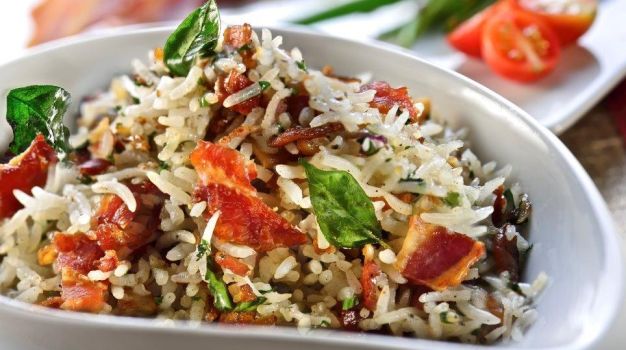 Bacon Fried Rice
Even the Fresh Crab with Butter Pepper and Garlic Sauce had a tasteful texture and temperament.
Desserts
are a performance by themselves at Amaranta.
The Kerala Vanilla Brulee is a sophisticated symphony of creme brulee, Pondicherry Cake and a calming Camomile Sorbet. The show was nearly over. And in their final act, they presented Paan with mousse. As the homemade ice creams took the curtain call.
Charles Morgan once said, "There is no surprise more magical than the surprise of being loved: It is God's finger on man's shoulder."
Love was plated that afternoon at Amaranta.
I could tell.
I felt a finger on my shoulder.
Or maybe even that was an illusion.
Some magic.Swapan Seth eats all day, and weighs 58 kgs. The only exercise he ever does is running Equus. Ostensibly.Disclaimer:The opinions expressed within this article are the personal opinions of the author. NDTV is not responsible for the accuracy, completeness, suitability, or validity of any information on this article. All information is provided on an as-is basis. The information, facts or opinions appearing in the article do not reflect the views of NDTV and NDTV does not assume any responsibility or liability for the same.