There is something about McLeodganj that can not be described in words. Something deeply
spiritual
. Something that seeps into your being and touches the core of who you are. And like a
magic
wand, calms you down. Slows your breath, makes you see things in a new perspective. Yes, McLeodganj can do that.
What to Do
Dharamshala is home to many
Tibetan
refugees and Upper Dharamshala (or McLeodganj as we know it), has the residence and temple of His Holiness Dalai Lama. The main
temple
complex is situated at the end of Temple Road, thankfully at one arm's distance from the crowded Market Square. The temple itself is large and allows people to walk through and pay their respects. But if you wish to lose yourself in the moment, you should visit the temple during morning prayers.The collective chanting of hundreds of
monks
and local Tibetans is an experience that has the
power
to cleanse your
soul
. We sat down in a corner, not wanting to intrude, yet hungry to be a part of this moment. Within minutes, people praying around us realised that we were there too. One insisted that we sit on a cushion as the floor was too cold. When we smiled and said we were okay, they picked up cushions and forced us to make ourselves more comfortable.
Kettles
being carried around the temple poured hot
sweet tea
into cups that were held out. We, ofcourse, were not carrying any cups. A Lama praying nearby, gave us his and would not take no for an answer. So we sat there on those cushions, hands wrapped around a warm cup of tea, listening to the chanting, grateful and touched.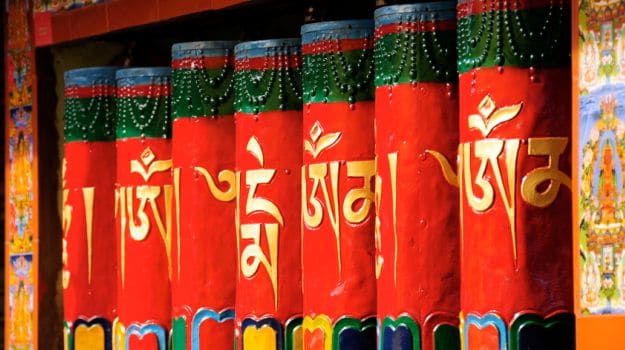 The beauty of McLeodganj is not in the views (stunning as they can be). The beauty of McLeodanj is in its people. And if you want to understand the town, and what differentiates it from
Shimla
or Mussourie, spend some time there and sit with locals. It is not as romantic a notion as it may seem. A simple cup of coffee in the popular Woeser Café was made memorable only because I took the time to chat with the owner who told me all about how she wakes up in the morning and bakes 20
cakes
and how she can not imagine doing anything else, because she loves
baking
so much. Or my masseuse who let it slip that she is a
vegetarian
and makes incredible spinach cheese
momos
(which set me off on a quest to find the best in the town).
Where to Eat
There is a lot to eat in McLeodganj, some average and some outstanding. If you are short on time, do what I did and eat one dish at one place and hop over to another for the next course. Here is a curated pick of the very best, not the touristy high rated ones, but those recommended by locals and tried and tested by us.
1. Momos
To go to McLeodganj and not eat (lots of) momos is sacrilege. But the options can be intimidating. Here's what you must try - The
Mutton
Momos at
Chonor House
are juicy and divine. For
Spinach Cheese
Momos, go hunt for
Namgyal Restaurant
inside Om Hotel (a lane under main market square) and ask them to make a plate (it's not on the menu). And you must try the vegetarian momos, pan-fried and served right opposite the prayer wheels at the market square. We asked for one piece each as we only wanted to taste and the lady obliged.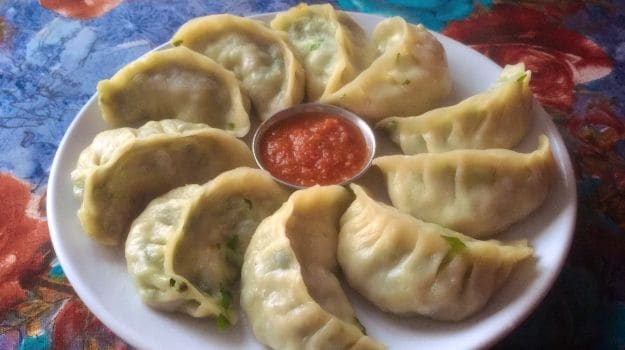 2. Tibetan Fare
There's a lot more to Tibetan food than Momos and Thukpa. Explore the menu at
Kailash
, opposite the market square prayer wheels. The second floor
rooftop
is where locals go for a
beer
and
gyuma
, a fried
sausage
-like mutton dish that is delicious. For mains, make sure you order the
shaptak
(a stir-fried meat dish) with
tingmo
(steamed Tibetan bread).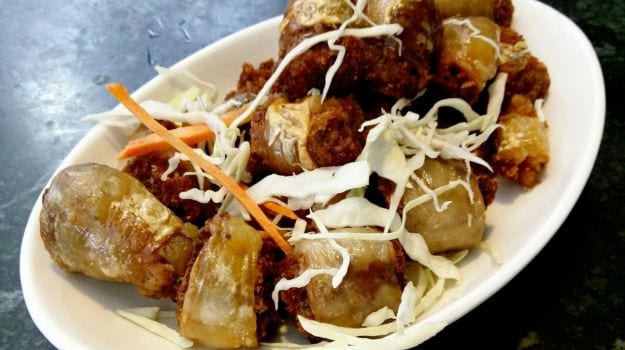 Gyuma, a fried sausage-like mutton dish

3. Pasta and PizzasCraving some Italian food? Skip the highly acclaimed (but disappointing) Nick's Italian Kitchen and choose Jimmy's instead. Located on Jogiwara Road, the décor is influenced by Big Chill Café in Delhi, down to the granite tables. The kitchen delivers flavours though. The Penne Aubergine Chicken Mozzarella Bake is as sinful as it sounds. Seed Café, further down on Jogiwara Road dishes out cheesy pastas and has great views too, as does Café Illiterati.
Image Credits: Prashant/www.foodiye.com4. Korean FareKorean in McLeodganj, you ask? Keep the scepticism on the side and go hunt for this gem of a place called Seven Hills of Dokkaebi, hidden away in a bylane near LungTa (the popular 'Vegetarian' Japanese Restaurant). The menu has a plethora of options for you to choose from and the portions are massive, so order thoughtfully. The Pork Bulgogi is to die for. They also offer set menus, stir fries, bibimbap and many other Korean dishes.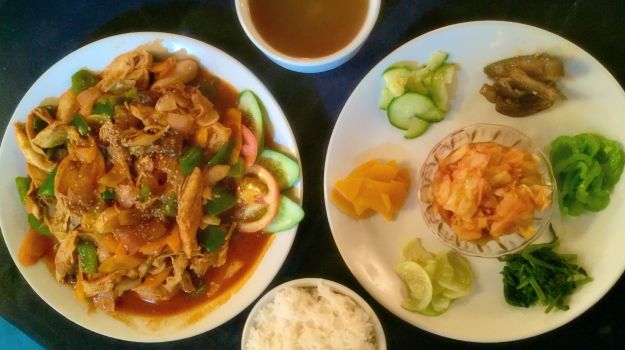 Though Moonlight Espresso on Temple Road is always crowded, they do not make the best coffee in town, as is rumoured. That crowns rests humbly on the head of the lady who runs Woeser Bakery (under Black Magic, Jogiwara Road). Her cappuccino is hand beaten and not machine made like the other places. While you're there, try the moist and crumbly carrot cake too. You can thank me later.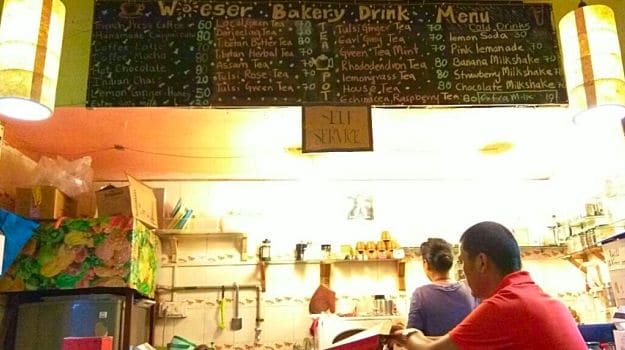 6. Bakery and Dessert
There are so many options for those with a sweet tooth that choosing becomes a task.
Chocolate Log
does nice
pancakes
, whereas
Lhamo's Croissant
bakes fresh
croissants
and
gluten free
breads and desserts.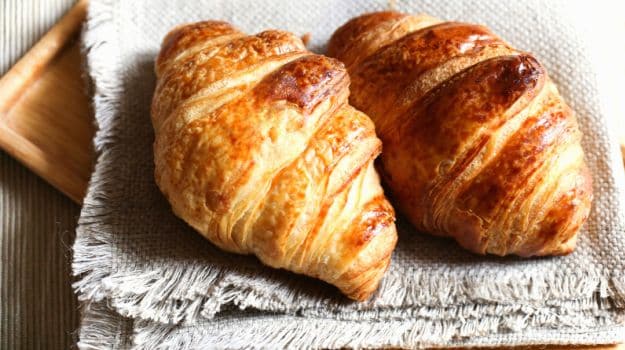 Where to Stay
McLeodganj has something for every budget. Pema Thang Guest house offers small but traditional rooms which overlook the valley. As is the case with most HPTDC hotels, Hotel Bhagsu is perfectly located and has large rooms at great value. However, if you wish to indulge, there is only one place in McLeodganj that ticks all the boxes and that is Chonor House, run by Norbulingka Institute. Situated right next to the temple, the hotel features stunning rooms done up in traditional Tibetan style and offers delectable food too. It is serene as well as central, a rare combination to find.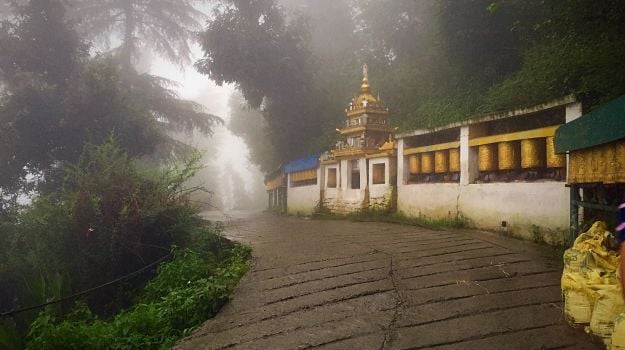 When to Go
It is common to travel to hill stations in summers, seeking the cool weather as a respite. However, perhaps one of the best times to visit McLeodganj, is rainy season. The hills are lush green, clouds float in unapologetically and the crowds are thin. Yes, it rains for some time every day. Just open an umbrella and saunter along like the locals do. Rains, steaming hot food, spiritual chanting and a sense of calm. What could possibly be better?