Winter Recipes- Today's Google Doodle marks the beginning of the holiday season and reads 'Tis the Season. The phrase has been borrowed from a Christmas album 'Tis the Season by American singer Vince Gill and Australian singer Olivia Newton-John. It's a beautiful collection of Christmas carols and was released by Hallmark Entertainment in the year 2000. While the album's theme is all Christmas-y, the Google Doodle speaks of everything fun, fabulous and festive. We've decoded 'Tis the Season as a celebration of whatever is in season - for us it's the time to indulge!
With Christmas and New Year just around the corner, make the most of what the season has to offer. From garden fruits and veggies to winter warmers, we bring you the brightest stars of the season. 'Tis the Seasonof festivity where the mood soars high and good food adds volumes to your celebrations. We have a full-fledged festive menu all chalked out and ready for you.
From ruby red beetroots and juicy oranges to sensational spinach and radiant carrots, take your pick and cook up a storm. Serve in style the 10 best of our winter recipes.
Everything you crave in winter is all bundled up in one dish. Creamy, healthy and unbelievable delicious -sarson ka saag cooked with bathua and served with butter. You won't stop till you're done till the last bite.
The most popular and loved winter recipe.
Gorgeous spinach soup with a spicy Indian twist. All you need is some spinach leaves, mustard seeds, curry leaves and soft, small chunks of cheese croutons.
The good old spinach soup with an aromatic tempering.
The smell of this carrot halwa will pull you to the kitchen in just minutes. Grated carrot cooked in condensed milk and mixed with cinnamon and cardamom. And if that wasn't enough it's also laced with crunchy almonds and pistachios.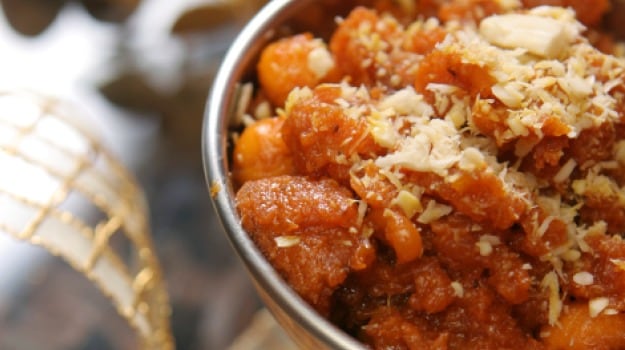 This Sunehri style gajar ka halwa is Pakistani style with grated carrot and condensed milk pudding.
If you're not a big fan of beetroot then be we should tell you that after this recipe you will be. These beetroot and tofu kebabs are not just delicious, but also a power house of energy.
Brimming with antioxidants these kebabs hardly have any calories.
Get the best of this gorgeous mutton curry cooked with Kashmiri spices. It will surely rule your dinner table.

They're small, firm and terribly sweet. Peas! Marut Sikka teaches you how to make tikkis with a sharp exterior and a sweet inside. Balance the flavors with a tangy pea tikki stuffed with a sweet khoyaand date filling.
A great contrast of flavors.
Pumpkin chunks cooked with sweet and sour flavors of tamarind, chillies, a hint of sugar and a whole lot of spices.

How to turn a regular cake around? Cook it with some zingy orange zest and whole lot of love.
Delicious orange zest with a hint of lemon in every bite.
Make the most of methi this winter. This wonderfully moist and flavourful chicken cooked in a luscious methi gravy will blow you away. The subtle yet unique flavour of methi that comes in the curry is refreshing and as delicious as it can get.
A chicken curry with Fenugreek leaves (methi) is a hearty and healthy dish that is just perfect for a quick dinner dish.
Thinly sliced sweet potatoes are dipped in a gorgeous batter, fried and served with a mayo based zingy dip.
Dipped in a luscious batter, thinly sliced sweet fries are fried crisp and served with a zingy dip.