It's Christmas! That time of the year when your house is laced with shades of green, red and white. The coniferous is trimmed, shaved and adorned. The mystical Frosty comes to life and stands guard in your backyard. Tis' the season to double-check your wish-list and wait for Santa to grant all your desires. Chestnuts roast over the bonfire, minced pies, turkey and fruit cakes adorn your dinner table.


Christmas marks the birth anniversary of Jesus Christ, whose teachings form the foundation of the religion. And do you know why Christmas candy is always shaped like a cane? Well, look at the candy upside down and you'll have your answer! Hint: It's essentially a 'J' that represents the name of ...... Over the years, Christmas has ceased to be a strict Catholic practice and has been embraced by people across culture and religion. What makes Christmas a unique affair is its ability to be religious and secular at the same time. It changes with change in geography. Every culture elicits a different custom and a different tale.


(Also Read: 7 Best Rum Cocktails Recipes For A Spirited Christmas Celebration)

All About Christmas Dinner

The Christmas dinner is an exuberant feast that commemorates Christmas Eve. The traditional Christmas table is a feast like no other. To begin with, there are breads and cinnamon cookies. In Germany they eat stollen, a type of bread that is believed to resemble Christ's swaddling clothes. In Belgium, cougnolle is baked in the shape of Baby Jesus. Next comes the roast turkey or chicken that forms the centerpiece of the table. In parts of France, you'll mostly find roasted goose stuffed with chestnuts. More recently, roasted meats like lamb and beef have also gained popularity and are serve as an alternative to turkey. Another Catholic tradition is the Feast of the Seven Fishes, which is basically a fish pie. Christmas desserts are truly to die for. From flambéed Christmas puddings to the classic Yule log cake, you're in for a treat. Wash them down with some traditional tipples like some mulled wine or eggnog while rum and brandy remain all-time favourites. Milk is believed to be the fuel for Santa to keep his journey going. This ritual can also be linked to the history of the Christmas tree. In Germany, people would decorate their trees, or what they called 'a paradise tree' with apple wafers and cookies. Santa was believed to nibble on these snacks. This later transformed into the tradition of placing cookies and milk for Santa. Side note: The ritual of making houses from ginger biscuits and cookies actually became popular after 'The Grimm Brothers' included this concept in their story, Hansel and Gretel.
(Also read: Christmas 2022: 5 Delicious Appetiser Recipes To Light Up Your Christmas Party)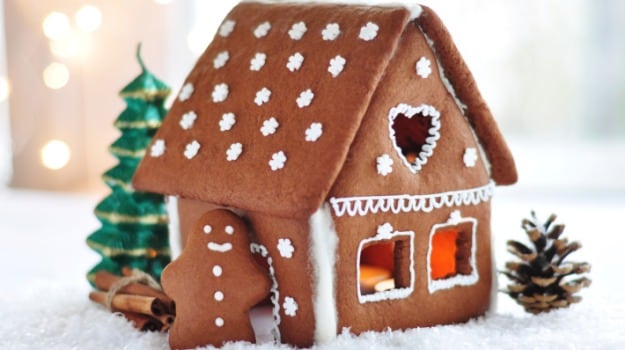 Here's the ultimate menu for your Christmas dinner with 17 recipes from our best chefs.
The original mince pie included rabbit, patridge, hare and pheasant, along with dried fruits and spices. It was known as the Christmas Pyre and was said to resemble Jesus' cradle. Mince pies are baked on each day of the 12 day Christmas as a sign of luck. Another custom is to accept a mince pie in every house you visit over Christmas!

Mince pie is a popular Christmas dessert


Popularly referred to as 'Devils on horseback', it is the traditional Christmas snack. It consists of glazed dates stuffed with chives and cream and wrapped in bacon.There, we saw you slurping.


(Also Read: 11 Best Bacon Recipes | Popular Bacon Recipes)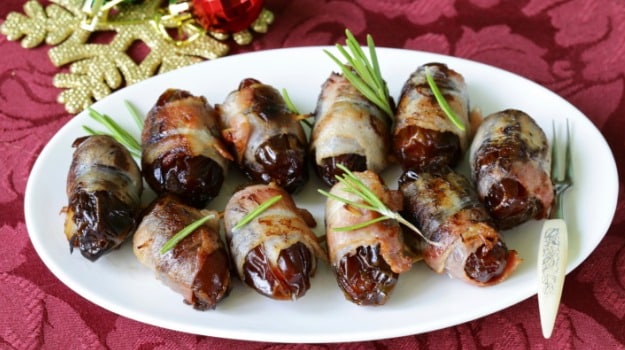 The dish is popularly referred to as 'Devils on horseback
This dish offers a perfect balance of flavors. It includes a whole ham stuffed with a fruity mixture and glazed with golden syrup and jaggery. Tender and succulent, this wholesome dish is a winner.


(Also Read: How to Make Mutton Soft and Tender: 4 Ingenious Ways to Cook Flavoursome Mutton)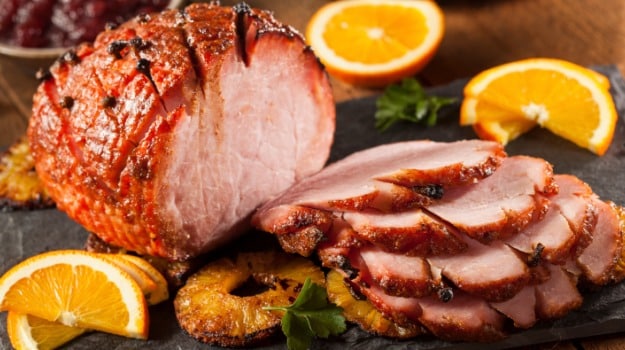 Glazed ham offers a perfect balance of flavors
This is a traditional recipe made with minced or ground meat which is baked in the form of a loaf. A treat for meat lovers, this recipe is made with a select mix of spices that is a treat to the soul.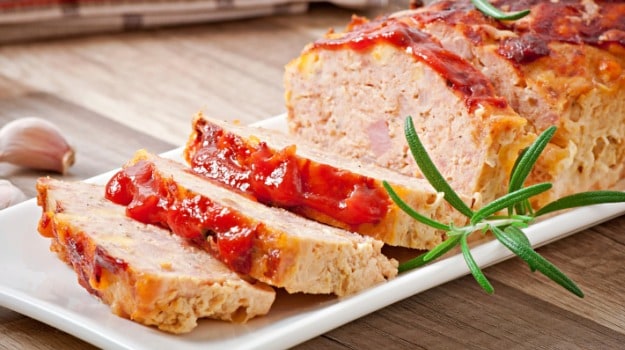 This dish is a treat for meat lovers
Fresh out of the oven, cookies made with flour, butter, honey, ginger, rum and all things Christmassy. The crumbly goodness with a pungent kick is sure to take the festive fever a notch higher.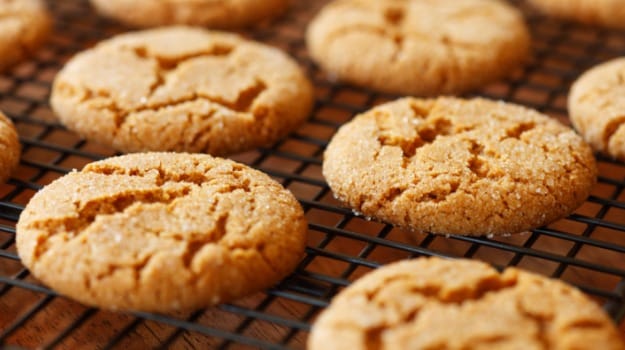 You are in for a real treat with this recipe. Roasted chicken seeped in white wine and served with herby mushrooms.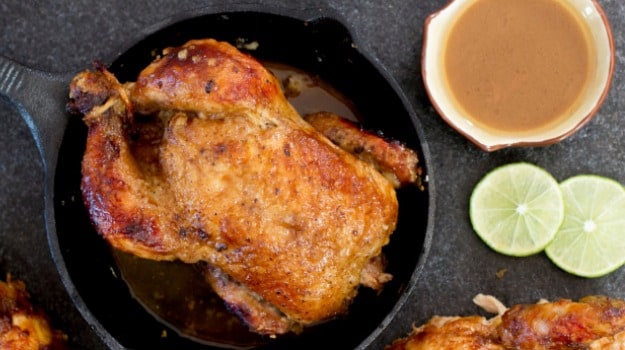 Roast chicken drizzled with wine and mushroom sauce


Great as a side, chunks of pumpkin are tossed with fresh thyme, coriander seeds, red wine vinegar and red chilies and then baked perfect.


This dish is great as a side to your mains


Shepherd's pie is a classic British dish made with meat and sealed with a delightful crust of mashed potatoes. This scrumptious recipe would show you how to give it a vegetarian makeover.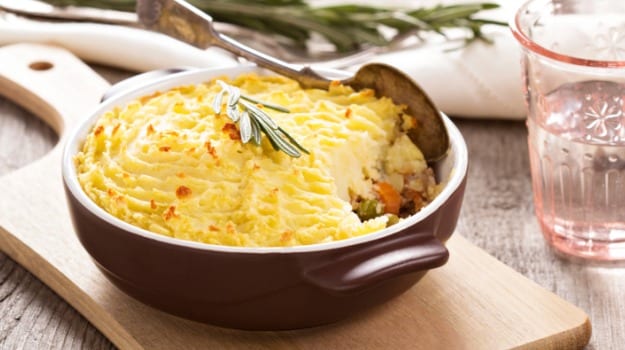 A simple dish that tastes great. Layers of potatoes, cheese and cream, finished with a golden crust. This dish is sinfully good.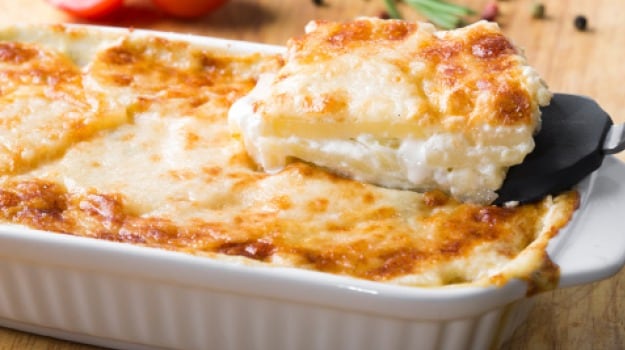 A snack that'll get anyone easily hooked. Mushroom caps are topped with a delicious mixture of diced onions, bell pepper, dates and cheese and baked.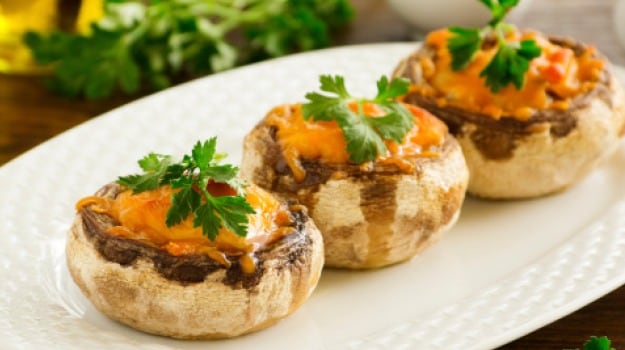 A mix of red wine, fruits, cloves and cinnamon, served warm. This winter warmer compliments the gourmet fare.
No oven? No problem! Here's a scrumptiously simple way to bake a cake in a pressure cooker. It's just brilliant and tastes nothing short of divine!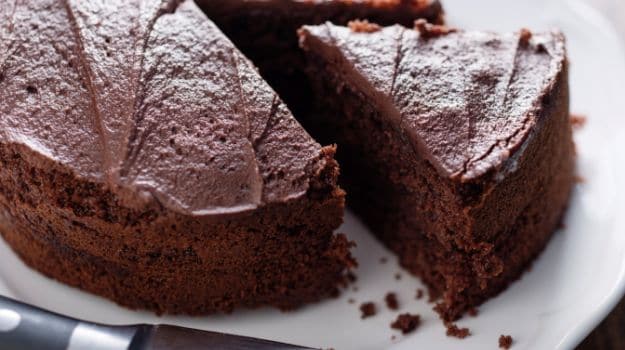 Made with dried cherries, almonds, raisins and a whole lot of flavour, top this delicious plum cake off with a scoop of vanilla bean ice cream and go straight to foodie heaven! It pairs perfectly well with your afternoon cup of tea as well.
A fruity and nutty cake recipe with the goodness of dried cherries, almonds, raisins and many more dried fruits.
An easy and fuss-free way to make a delectable vanilla cake... in a pressure cooker! Spruce it up with some buttercream frosting and enjoy it this holiday season. Trust us, it doesn't get more classic (and sinful) than this!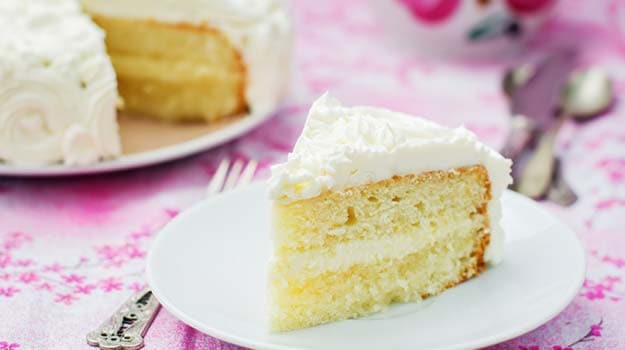 A wholesome christmas pudding made with sultanas, raisins, prunes and a whole lot of brandy and rum. his dry fruit, liqueur and fruit special Christmas Pudding is a slightly lighter version than the original yet it is stacked with flavour just the same.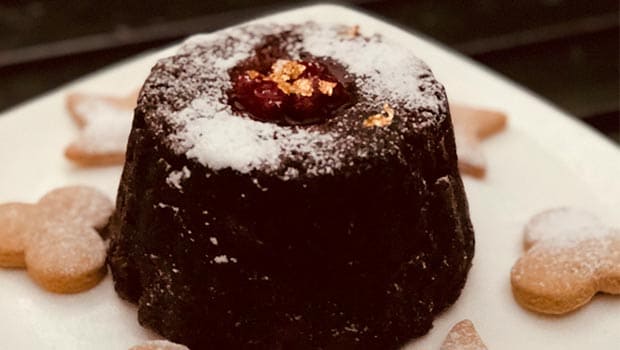 No Christmas is ever complete without a delicious, generous serving of Christmas pudding.
Rum ball is popular confection where the flavour of chocolate is enhanced with a hint of rum. This bite-sized dose of goodness is a popular treat during winter and Christmas festivities.

Filled with the goodness of chocolate, soft butter, coffee and vanilla essence this Christmas special chocolate brownies is sure to bring a cheer across household. So what are you waiting for? Get baking!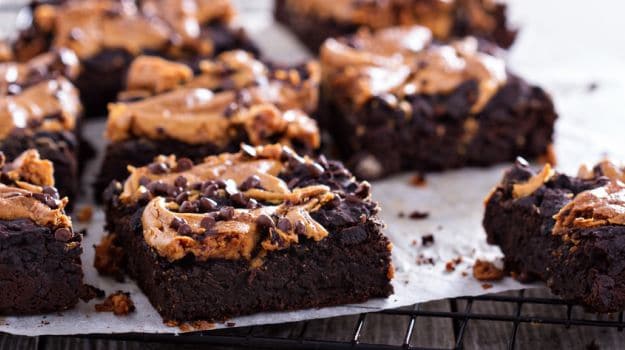 Merry Christmas 2022 everybody!