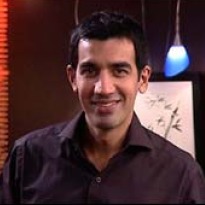 Self-taught chef and restaurateur Nikhil Chib's career graph is the stuff dreams are made of. From a small catering business in 1995, to Busabong in Goa, and the highly acclaimed high-end Busaba in Mumbai! Serving popular and rare South East Asian delicacies, his specialty restaurants leave their high profile clientele hungering for more.

Nikhil's main culinary lessons have been from his extensive travels to the heart of the Asian continent, through small towns and distant villages. And this is what lends that special Asian aroma to anything he serves.

At work, chef Nikhil Chib is unmatched. He's smart, he's funny, and he knows his way around the kitchen really well. On his show, The Chef and his Better Half, along with his wife, Natasha Chib, they cook up the most delectable Asian selections ranging from Vietnamese to Thai to Japanese cuisines. Expect an occasional French dessert thrown in for relief but mostly with an unexpected Asian twist!