Mornings are brutal. Your alarm clock is buzzing, your dog is jumping on your face, then you keep hitting snooze and dreaming of Sunday. You're also too tense to actually
sleep
again no matter how much you try, so you lie there tragically. And the last thing you probably want to do is jump out of bed and into the
kitchen
to slog your way to some wholesome
breakfast
. That's probably why most of us just grab anything that comes our way, rushing out of the door and ignoring our mother's chant "
breakfast
is the most important meal of the day".Surprisingly, the one
breakfast
dish I can't resist
(no matter how grumpy I am)
is Besan ka Chila, also known as besan ka puda. Now don't get me wrong, I love my bacon and
eggs
or
bhurjee
with
paratha
, but the chila just feels so light on the
stomach
and can be made with hardly any
oil
. It is like a dosa, but made from gram flour batter, which is mixed with onion, tomato and
masalas
. "
Besan
(gram flour) is a very
healthy
flour to cook with and gives a lot of
protein
to start your day", says Dr. Rupali Datta, Chief Clinical Nutritionist at SmartCooky. It's a wonderful breakfast for people trying to
lose weight
. Home Chef and Food Blogger Rekha Kakkar says, "Before you start making Besan ka Chila, sieve the
besan
so that the batter comes out smooth. While making the batter, mix it well and allow it to stand for five minutes, then mix again so it does not turn out lumpy".Want to make it more nutritious? You can add grated vegetables and
paneer
to the chila batter. At my house, it's always served with green
chutney
and tomato
chutney
. Some even enjoy it with softened
butter
and crushed
jaggery
. Click
here
for the ultimate recipe by Chef Niru Gupta, seasoned with finely chopped green chilli and ½ cup methi leaves. The humble chila may be simple and speedy, but let's not take away the beautiful play of flavours involved in making it. It's a classic, and a classic deserves special mention.
"Moong Dal Chila is a healthier alternative though. It is lighter and more nutritious in comparison to Besan ka Chila. You can make a thin
crepe
with moong
dal
, thinly sliced
onions
, and half a teaspoon of oil on a non-stick. Eat it hot off the griddle, else it well get soggy. Serve with fresh pudina
chutney
, and wash it down with a glass of
buttermilk
in the summer", says Delhi-based Nutritionist Anshul Jaibharat. And the best part? It can be ready in a jiffy and eaten any time of the day. Home Chef Rekha Kakkar adds, "Another way to make Moong Dal Chila more interesting is to experiment with various fillings such as aloo, masala paneer,
mushrooms
,
eggs
et al. You can even experiment with various flours or lentils or a combination of both".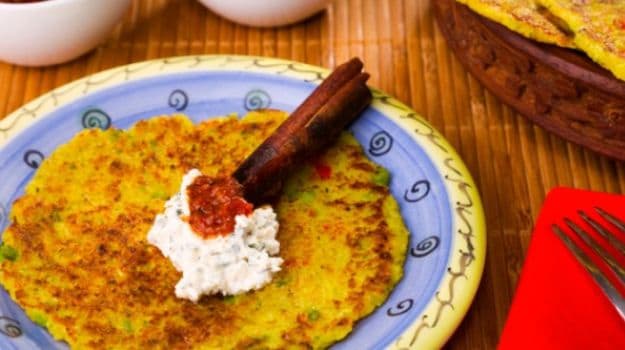 This ensures a supercharged and roaring start to your day. Yes, it makes for a great breakfast, but it's even more popular at
North Indian
weddings in the street food section. Especially on the day of mehendi, chila is made fresh for guests and served piping hot off the pan.Dr. Rupali Datta says, "A Moong Dal Chila is pure protein, and you can also spruce it up with paneer and greens for added nutrition. It's like a meal in itself". If you're jumping on the
calorie-conscious
bandwagon, use a non-stick so you can control the amount of oil, and use as little batter as possible and cook until crisp. "
Oats
Chila is also a great option. It's packed with fiber and is low on carb. You can stuff it with cottage cheese for extra protein, even
capsicum
,
carrots
and
ginger
", adds Dr. Rupali.As more and more people are moving out of their comfort zone,
Cafe Lota
presents a new take on Moong Dal Chila. It is stuffed with tempered spinach and paneer, then rolled and cut into pieces, giving it a
contemporary twist
. It's one of the best things on their menu, hands down.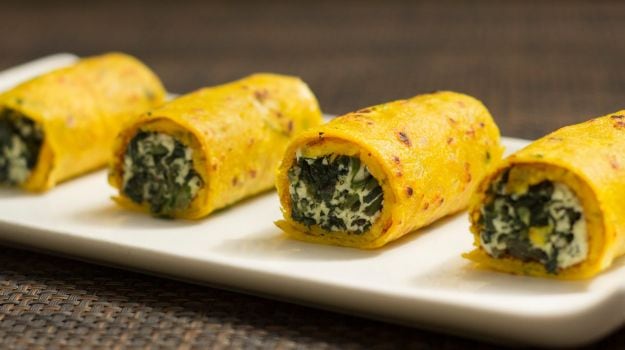 Image Credits: Cafe Lota
Moong Dal Chila
Recipe by Chef Rekha Kakkar
Ingredients:
For Moong Dal Cheela
2 cups split moong dal (without skin)
1 green chilli, finely chopped (optional)
1/2 cup fresh coriander leaves, finely chopped
Salt to taste
2 Tbsp Olive oil/ghee for cooking chila
For Topping Option 1:
100g mushrooms, sliced
1 tsp oil
100g paneer
Salt to taste
Freshly crushed black peppercorns
For Topping Option 2:
200g tofu
½ cup onion, finely chopped
1 green chilli, finely chopped
Salt to taste
1-2 pinch turmeric powder
1 tsp oilMethod:1. Wash the moong dal under running water, till water comes out clean. Then cover it with water and leave it to soak for 2 hours. Grind the moong dal in a food processor to make a fine paste. Add more water if required to get the consistency of crepe batter. Heat a griddle or cast iron skillet on medium heat. Add oil or ghee and then swirl to coat all sides of the pan. Pour a ladleful of batter onto the pan and with the help of a ladle spread the batter into a circular shape from the center outwards. Cook for 2-3 minute till its underside is browned. Then flip it and cook till the other side is golden too. Remove from pan and serve immediately with topping of your choice.2. For topping option 1: Heat 1 tsp oil in a pan, then add sliced paneer and cook from both sides. Remove from pan and keep it aside. Now add sliced mushrooms, cook for 5-6 minutes till mushrooms start to caramelize and add salt and crushed black peppers. Remove from heat and keep aside.3. For topping option 2: Heat oil in another pan, add chopped onion and chilies. Cook for 2-3 minutes so that the onions are cooked but not browned. Add turmeric powder and salt followed by crumbled tofu. Cook for 3-4 minutes and voila!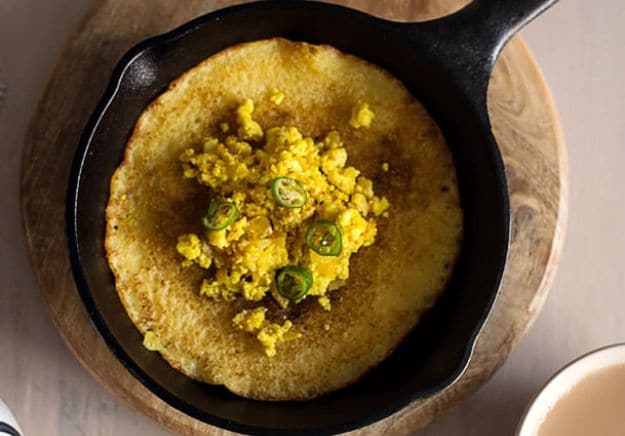 Image Credits: Rekha Kakkar/www.mytastycurry.com/