I was at Smoke House Deli in Mumbai's suburb of Bandra a few evenings back when I bumped into their chef, Glyston Gracias. Glyston was checking cuts of porkbelly that his supplier had got for the Christmas specials at the restaurant. Glyston pressed the pieces of pork and told me "The meat should bounce back when pressed and I look for a 50:50 ratio of meat and fat".
"Did they teach you how to buy pork in catering college?" I asked him. "No" replied Glyston, "I have learnt how to choose and buy pork from my mother over the years". Glyston told me that he was going to braise the pork for about 6 hours, let it rest for an hour and then put it in the freezer. These would be taken out when customers placed their orders on Christmas, flipped on a pan and then put in the oven for half an hour before being served.
The marinade consisted of cumin, pepper, 5 spice powders and beer and orange juice and chicken stock and a reddish orange powder with a familiar and yet intriguing aroma. I asked Glyston what this powder was. "It's bottle masala made by my mother"! "Bottle masala? Isn't that an East Indian spice? I thought you guys do European food" I asked Glyston. "Actually, I am East Indian" replied Glyston "and I love the flavours of bottle masala. My grandmom used 33 spices to make it. My mom uses about 20."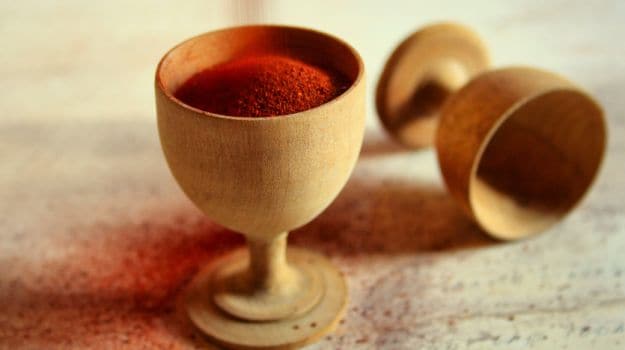 Bottle masala is so called because the assortment of spices that go into it are cleaned, sunned, roasted, pounded and then packed into empty beer or whiskey bottles for use through the year. Each house has its own recipe. Sometimes this can vary across generations in the same house. It was believed that the roasting of spices for the bottle masala will drive away the evil spirits from the house.
There are very few places like the odd East Indian run cold storage in Bandra, or cottages in its Bazaar lane, which offer bottle masala on sale.
Glyston's reference to East Indians, reminded me of the time when I was new to Mumbai and had heard about the East Indian society. I had just come to Mumbai from Kolkata, in the east, and thought that the society would consist of fellow Bengalis planning the next Durga Puja. Then I found out that East Indians were actually one of the earliest inhabitants of Mumbai and had nothing to do with Bengal. Many of them had converted to Christianity (Roman Catholics) when the Portuguese ruled Mumbai before the British.
It is still not clear why they are called 'East Indians'. The most popular theory is that they took this name because they worked with the British of the East Indian Company after the Portuguese left. The East Indians in Mumbai speak a dialect of Marathi with their own intonations. Many of them prefer to live in villages across Mumbai. Even Glyston, who is the chef of the Smoke House Deli restaurants whose branches are spread across the trendier parts of Mumbai, prefers to stay in an East Indian village in the distant suburb of Malad which he has to take a ferry to reach. The high-point there is his being able to take his dog for walks in the morning in the nearby woods before coming to his high pressure kitchens.
I asked Glyston what his Christmas dinner at home would be like. "Pork, pork and more pork" he replied gleefully.
His mother will make sorpotel. A Portuguese influenced dish which uses all parts of a pig and pig blood too though the latter is hard to find these days. There are variations depending on whether the dish is cooked by a Goan, Mangalorean or the East Indians. The East Indians use the bottle masala explained Glyston, while Goans would use garam masala in sorpotel.
The advantage of sorpotel, or the other porcine favourite, vindaloo for Christmas, is that they need to be cooked a few days in advance so that his mom would be free on Christmas day.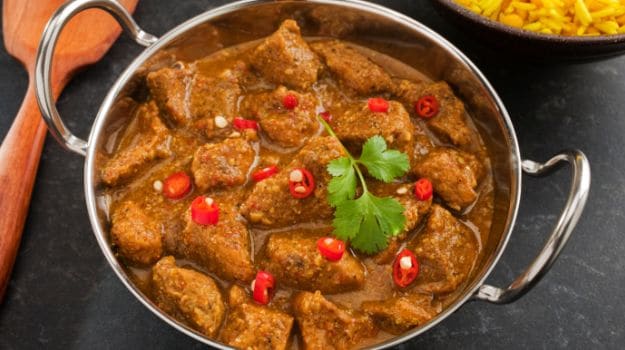 'Free' to cook some roast beef or beef croquettes and goat curry to go along with the pork that is.
Sorpotel and vindaloo are both dishes which have strong Portuguese influences in them. As does chorizo, the cured Goan sausage. The traditional Goan version is cured raw says Glyston, while the East Indians cure the meat for the sausages after cooking it first. Sausage pulaos are big during special occasions too.
There are a number of homemade Christmas desserts which are served with dinner in East Indian homes. These could range from marzipan, which you will barely see in the UK anymore to guava 'cheese', a version of which you could find in the Caribbean too, as well as plum cakes, jujubes, kulkuls, nankatais, walnut toffees, macaroons and so on.
Ironically, while restaurants in Mumbai are tom-tomming their Christmas menus of roast turkey and honey spiced legs of ham and duck in hoisin sauce, it is difficult to find restaurants where you can try out the sorpotels and vindaloos which the city's original inhabitants, the East Indians, love.
You can at least go to shops like American Express Bakery or Bandra's Rejoyce or the corner shops at Hill Road to buy traditional Goan and East Indian sweets. Nilesh Dias tweeted to me about the East Indian festival in far off Vasai where you can check out some East Indian cooking post Christmas.
Or you can try this recipe for a pork sorpotel which I got Glyston to share with me. He has used his chef experience and tried to translate his mother's recipe into a format which can be replicated anywhere in the world where you get Indian spices.
So here's my Christmas Gift to you. Wishing you a merry Christmas and a Happy New Year and hope you enjoy making some sorpotel.
Pork Sorpotel
Ingredients:
1 kg boneless pork chunked pieces
100gms goat liver
200gms garlic
50gms ginger
7 to 8 green chillies
50gm kashmiri chilli paste
Vinegar malt- to taste
20gms Tamarind pulp
Salt - for taste
Sugar -1 tablespoon
50ml Pork's blood
Bottle masala - 2 tablespoons ( Grind the below as a house spice substitute to bottle masala)
cumin- 15gms
coriander- 10gms
onion powder- 15gms
garlic powder - 10gms
paprika- 10gms
amchur powder - 10gms
cloves- 5gms
black pepper- 5gms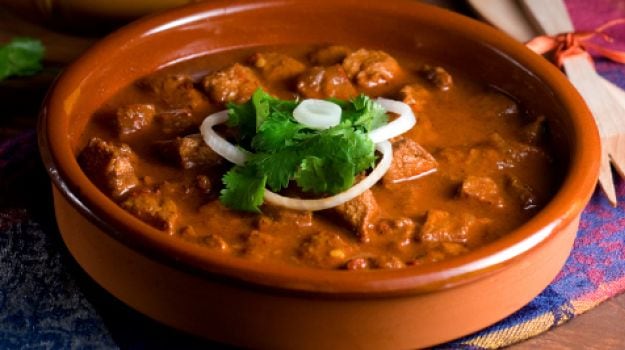 Procedure:
Braise (fry and then cook under a closed lid) the pork meat in chicken stock for about 20-35mins and when meat is tender, add liver to cook for 10 mins. Keep aside.
Cut the ginger and garlic match stick size. Slit the green chillies.
Cut the meat into small cubes
Heat the oil in a pan add ginger, garlic and chillies. Saute till translucent.
Add the bottle masala and red chilli paste, cook till oil separates from the masala .
Then add the pork cubes with the braising liquid, simmer on low heat for about 15mins. Add vinegar and tamarind pulp. Adjust seasoning. Finally add pork blood. Recommend eating the next day.
Kalyan loves to eat and he loves to talk about all that he eats. His wife urged him to start writing about it, otherwise she would have to hear it all. He blogs as 'finelychopped' and is the editor at large for the India Food Network.
Disclaimer:
The opinions expressed within this article are the personal opinions of the author. NDTV is not responsible for the accuracy, completeness, suitability, or validity of any information on this article. All information is provided on an as-is basis. The information, facts or opinions appearing in the article do not reflect the views of NDTV and NDTV does not assume any responsibility or liability for the same.