Easy Masala Pav Recipe and Where to Get The Best in Mumbai
NDTV Food | Updated: December 14, 2016 12:01 IST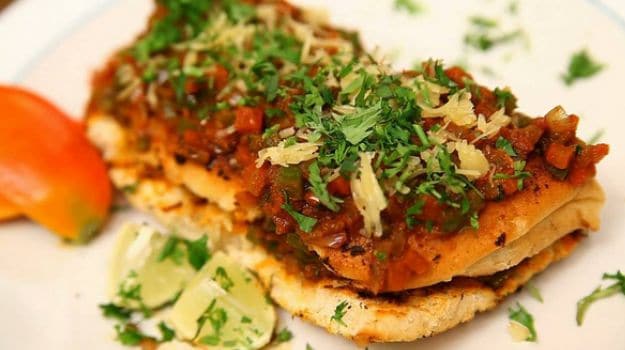 Image Credits: Instagram/taste_of_india_

No matter how much we boast of our global savoury ambitions and westernized culinary skills, our cravings often are for local street food.

One of the major Portuguese contributions, which changed the face of Indian cuisine forever, is the introduction of pav. And if you happen to hail from Western parts of the subcontinent, you would certainly vouch for this. The Europeans missed their native bread when they landed in our country. Also, it was needed for the Holy Communion. No wonder then that the pav, which travelled from Goa to Bombay, soon became a staple. Besides, the wonder food soaks butter way easily than the Indian roti. And butter makes everything better, doesn't it? Food historians account its nomenclature to being a quarter part of the loaf. And not surprisingly, the Portuguese word is pao, not pav.
While pav-bhaji became popular in last of 17th century, vada pav caught on even later. A few years later came the Kutchi dabeli, which was the same basic idea as the aforementioned but a squeezed potato mixture was put inside the bread and pressed tight without including a patty or vada. A few ladles of sweetish chutney was added in as well, in line with the flavor preference of Gujaratis.

But perhaps, not many road side dishes can compete with the quick and tasty masala pav, made by stuffing butter-laden soft pavs with spicy masala. The masala is prepared as an old-fashioned tomato-onion gravy. At times, the pav is just toasted on the tava with butter, lots of coriander and pav bhaji masala. Even cheese and lemon wedges can be added to take it to another level. Particularly eaten in Mumbai and other parts of Maharashtra, Masala Pav can serve as a delicious relief to those 4 am hunger pangs as well as a go-to snack for beachside walks. When the bhaji runs out on your plate, masala pav comes to the hungry soul's rescue.

It wouldn't be wrong to call it a hybrid of sorts- between the much talked about pao bhaji and an Indianized salsa. But, unlike the former, masala pav is more of a quick-fix rather than a complete meal in itself. The taste too, varies drastically. Sounds mouth-watering, doesn't it? Wait till you find out more. We bring to you excerpts from conversations with some well-known Mumbai based food bloggers-

Nikita Gogri, a food blogger from Bandra Kurla Complex says- "Nowadays, masala pav has become a dish in itself. This particular street food is made whole- as it is- but at some places, they cut the bread in pieces and toss it with the yummy masala. Added to it are the wholesome veggies and cheese, as per individual preference. My favorite is the one with cheese and most restaurants here in Mumbai literally put lots and lots of the sinful cheese. Also, I choose a chopped pav since it is easier to eat and not messy like the other version of it. Almost all well-known fast food joints in the city of dreams can serve you a delicious mouthful of this dish. But I'd strongly recommend The Classic Hotel in Matunga East and Gold Rush Hotel in Dadar West. The former serves no veggies, just chutney and the remarkable taste hasn't faltered since my school going days. Gold Rush is one of those places which started off the trend of masala pav in the area. Loaded with vegetables, the dish is very well done."




Priyanka Sharma, author of An Indian Foodie, shares with us her own Masala Pav story- "I was introduced to it during my college days. There was a restaurant named D.P's- The fast food centre(Matunga) near our college, which served amazing Masala pav. My best friend used to love it and that's how I had my first encounter with the dish. Later on, I tried a few places, but it never appealed me. Until recently, when I was introduced to new joints- Amar Juice Centre (Vile Parle-West) and Shiv Sagar (Vile Parle- East), serving mouth watering Masala Pav. And, my search for best one in Mumbai ended right there. If you don't want the messy meal of Pav Bhaji or are just plain lazy, then masala pav is surely your thing. It reduces the efforts of tearing the pav, mixing onions and dipping it in bhaji. I personally am a fan of masala pav which is less tangy. I also take special care to ask the staff to avoid raw onions, if possible."

Another favourite in the city is Vishnuji Ki Rasoi, Thane West. It is the perfect place for proof of Mumbai's love for spicy food. The spicy preparation comes as part of the starters in their buffet with cucumbers and tomatoes sandwiched in a pav fried in butter and masala.




Here's an easy to put together, humble recipe by Sanjeev Kapoor, so that you can relish this Mumbai based dish in the comfort of your own home-

MASALA PAV RECIPE

Serves: 2
Time: 45 minutes

Ingredients:
8 bread pavs
1 tsp oil
2 large onions, finely chopped
1 small green capsicum, finely chopped
2 large tomatoes, finely chopped
2 tsp pav bhaji masala
2 medium potatoes, boiled, peeled and mashed
2 Tbsp finely chopped coriander leaves
A few lettuce leaves
Salt to taste

Method:
1. Slit the pavs into two halves.
2. Heat the oil in a non-stick pan. Add onions and sauté for two minutes. Add green capsicum and sauté.
3. Meanwhile keep the slit pavs on a heated grill, close the lid and cook.
4. Add tomatoes to the pan and continue to sauté. Add salt and quarter cup water and mix.
5. Add pav bhaji masala and mix.
6. Add the boiled potatoes and another quarter cup of water and cook till all the ingredients blend well and the mixture is quite dry.
7. Add coriander leaves and mix.
8. Place lettuce leaves over the bread halves. Spread the cooked filling over them, fold each half and serve immediately.