Confused about what to prepare and your guests are arriving anytime now? During this season, a variety of fresh and colorful veggies are available in the market, so what are you waiting for? Get hold of fresh seasonal veggies and prepare some delightful meals for your guests and family members. Oh! But you got bored preparing the same old food and want some change? No need to worry because we've got a list of some lip smacking veg recipes in Hindi that are easy to cook and will also break the monotony of the same old stuff you've eating at home.
Here are our 13 best veg recipes in Hindi that you would love to prepare at home:
Matar ke kabab is a perfect starter for a vegetarian meal which can be eaten with a variety of chutneys adding to the taste. The combination of these healthy vegetables and exotic flavors of spinach, peas and winter expert ginger, makes a mouth-watering vegetarian recipe in Hindi, which will make a non-veg fan also to love it.
Beautifully decorated colorful veggies with a delightful topping of tomato sauce and cheese on a flat bread, pizza is favorite for many of us. But all the diet conscious people keep a distance from it as the main ingredient in it is all-purpose flour (maida) which may make it a very heavy meal, not to mention other side effects of eating 'maida' on a regular basis. We've got a Wholegrain Atta recipe here which is easy to make, now enjoy delicious slices of home made pizza without worrying about anything. This veg recipe in Hindi will make you fall in love.

Veg recipes in Hindi: Wholegrain (Atta) Pizza is best for diet conscious people.
One of the most loved curries and a an important component of any vegetarian spread is a paneer gravy dish. Whether it is guests or your children everybody wants paneer on important occasions. If you are bored already of the usual matar paneer and palak paneer, then try this paneer dish straight from the hills of Kashmir. This vegetarian recipe in Hindi is exactly what you need for dinner.

Veg Recipes in Hindi: Kashmiri Paneer with a touch of Kashmir.

Indo-chinese dishes are always a hit, be it for a party or a weekend meal at home. This spicy gobi (cauliflower) recipe in Hindi is easy to prepare and needs nothing more than your daily masalas. Your star dish for tonight can be ready in just about 30 minutes.
Veg Recipes in Hindi: Chilli Gobi is an Indo-Chinese recipe.

This recipe is a stunning idea for your breakfast table, bringing with it a South Indian touch with a different flavour. It needs two extra ingredients, moong daal (green gram) and dhania (coriander leaves), and gives the dosa a delightful taste. Try it this Sunday?

Veg recipes in Hindi: Pesarattu (green gram dosa), a south Indian touch with different flavor.
Bell peppers are commonly found in all vegetable stalls during the winter months. Barley is a wonderful millet and is known for its many health benefits. This veg recipe in Hindi combines the two for a stunning result which is quick and healthy. You can even use capsicum instead of bell peppers in this recipe.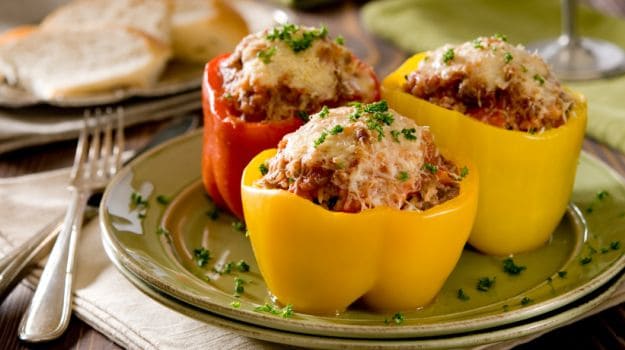 Veg Recipes in Hindi: Bell Pepper Stuffed With Barley, a quick and healthy recipe. Photo Credit: Istock

Having a toast in the morning with a glass of fresh juice is a common practice in many parts of the world. But why have a plain toast, when you can add taste to your toast with mushroom! Mushroom toast recipe in Hindi would be a perfect Sunday morning special for your kids and family.


If your kids, like many others, don't like the taste of baingan (eggplant/brinjal) then you should probably give this recipe a try. Make it with a little less chilli if you like, the but the khatta-chatpata taste is likely to be a hit with everyone at home, including the little ones. Cardamom, cinnamon, onions, tomato, and coriander powder are some of the ingredients that play a major role making this delightful dish. You should definitely give this veg recipe in Hindi a try today.

Veg Recipes in Hindi: Kashmiri Khatte Baigan is a must try. Photo Credit: Istock
A tasty aloo dish never fails to impress. Its easy and simple to make, and equally tasty so your guests will keep wanting more. A common among Punjabi recipe in Hindi, this dish is a hit anytime of the year.

Veg Recipes in Hindi: Hing aur Dhaniya ke Chatpate Aloonever fails to impress. Photo Credit: Istock
Say bye-bye to chips, biscuits, pies and other unhealthy snacks and say hello to healthy snacking with this lip-smacking dish. Chana with a little tadka and some spices is a perfect snack for the evenings.

Veg Recipes in Hindi: Masala Chana is a healthy snack. Photo Credit: Istock
This one's for all the paneer lovers out there. Bits of cottage cheese cooked in spinach gravy, palak paneer is an easy-to-make vegetarian recipe, which tastes the best when paired with roti or paratha. You can also serve it with vegetable pulao and raita.
Veg Recipes In Hindi: Palak paneer is an easy-to-make recipe
A delicious and super healthy wholesome meal with medley of vegetables, drizzled with an enticing cheesy sauce and baked to perfection. No more eating boring vegetables!
Create comfort in a pot with this beautiful melange. A simple, speedy and satisfying rice meal made with the goodness of garden fresh veggies!
So these are some delicious recipes for you to try, now go and start preparing one of them for your next meal. We know its tough to decide what to make and what to drop as they all seem super tasty and easy. Happy Cooking!