One way to approach trends is to get a pulse of the sentiment and identify trends with industry experts. Another way is to rely on absolute data and analytics. Google did just that. The
Food Trends
Report of 2016 by Google analyses food searches in terms of volumes and removes seasonal effects, etc. Thus, the report is able to correctly identify food trends, basis their interest levels on Google Search. Want to know what people searched for this year? Read on.
RISERS: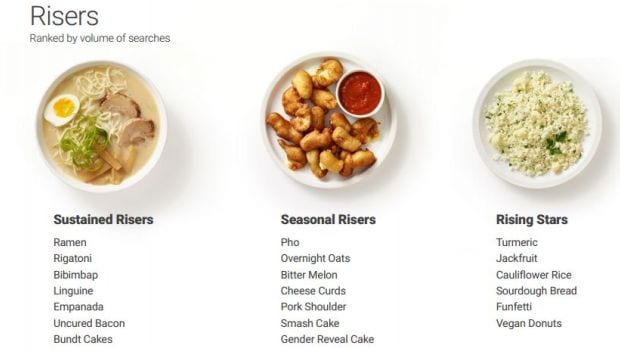 Certain food searches saw an upswing this year. Sustained Risers like
Ramen
,
Rigatoni
and
Bibimap
, showed steady interest growth over years. These can further be substantiated with the 5 trends discussed later in this feature. The Seasonal Risers like
Pho
, Overnight
Oats
and Bitter Melon were also highly searched and are expected to come back stronger next year. The Rising Stars like
Jackfruit
and
Cauliflower Rice
have seen a sudden spike that might not last and these may decline in their popularity next year.
DECLINERS: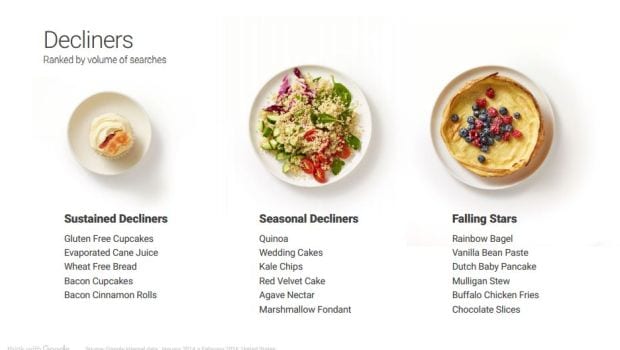 The decliners' category is for searches that have been seen to fade out. Their popularity can be seen as dwindling.
Gluten Free
Cupcakes and Wheat Free Breads top this list, which is a surprise, considering that Gluten Free remains the highest searched dietary restriction. What is even more surprising, is the lowering of interest in health foods like
quinoa
and kale. As these ingredients are just becoming popular in India, this trend can be seen in isolation to America and not be generalised. We're quite glad to see
Rainbow Bagels
in this list, enough of that trend already!
TOP RECIPES:
Our list of
Top 10 recipes
searched on NDTV Food was a delicious mix of snacks, main course and desserts. From cooking a
chocolate cake in a pressure cooker
to the fool proof recipe for chicken curry, readers rejoiced in their time in the kitchen. The recipes most searched for on our platform, the No.1 food content site in India, were largely Indian. The only aberrations were
KFC-style fried chicken
and
red sauce pasta.
However, the Google report looks at top searches in America and has identified the most searched for recipes in 2016. The list is top-heavy with dessert recipes,
waffles
, sugar cookies,
brownies
and
chocolate cake
ruling the roost. Pie crust,
crab
cake,
granola
and
bone broth
also find their places at the top.
TRENDS: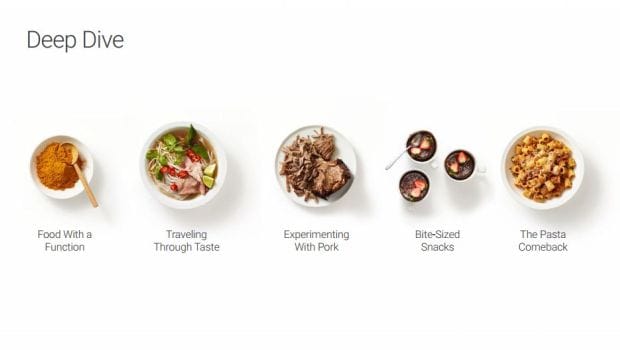 The 5 big trends that the Google Food Report identifies are:1)
Food with a Function
– People want to know the benefits of a particular ingredient before cooking with it or consuming it. Take for example
Turmeric
, there was a growing interest in the benefits of turmeric, and thus the way it may be used.2)
Traveling Through Taste
– No more are people sticking to their comfort food, experimentation is the name of the game in 2016. From Vietnamese Pho to
Ramen
, Mochi Ice Cream and Bibimbap, people are choosing to travel through their taste buds, even if not in real life. Searches include recipes as well as queries on where to get the best version of these dishes in a particular place.3)
Experimenting with Pork
– Americans have gone all out with their love for
pork
this year. From
bacon
to sausages, pork is a food trend that is uniquely identifiable. Consumers want to understand the different cuts of the meat, how to cook each differently and dishes which bring out the flavour best.4)
Bite-Sized Snacks
– A rising trend this year, readers showed great interest in bite-sized food, vis a vis cooking up large portions.
Mug cakes
were quite the rage, them being easy to whip up in a microwave in no time at all. However, customisation was key, with readers looking for variations and not just a plain ol' mug cake.
Mac and Cheese
Bites and Buffalo
Cauliflower
Bites were also much loved, as these are great starters to offer during a party.5)
The Pasta Comeback
– If you thought that the glory days of the Roman Empire were over, think again.
Pasta
made quite a comeback on Google this year, with people searching for creative recipes to make rigatoni or
fusilli
at home.
HEALTH BENEFITS:
In line with NDTV Food's focus on finding kitchen-solutions to medical problems, people searched for benefits of certain pantry ingredients in 2016. Benefits of
Apple Cider Vinegar
tops this list, followed by
coconut
oil,
cinnamon
and
fenugreek
, all of which are topics extensively covered on NDTV Food. We believe that ingredients in our kitchen have immense therapeutic value, and thus endeavour to share knowledge and know-how about these with our readers.
DIETARY RESTRICTIONS:
The audience searched for more information on Gluten Free foods this year than any other dietary restriction. With growing mistrust of milk, it is no surprise that Lactose Intolerance came in second. Information on Kosher foods and
Organic food
followed. At NDTV Food, we have an entire section where we discuss
Gluten Free
diets and their intricacies, offering ideas on
Gluten Free party snacks
,
desserts
,
flours
, etc.
Disclaimer: The report is based on search volume of America only.