Gujarati cuisine is one of the the oldest culinary treasures of India and is primarily vegetarian. It offers a wide variety of vegetarian dishes, each with its unique cooking style, different kinds of pickles, farsans, chutneys and foods that are always high on nutritional value. But the real essence of Gujarati food lies in the creative use of everyday vegetables and mild spices. It is an exquisite blend of flavors where sweet notes dominate most dishes like the famous Gujarati Kadhi. Gujarat's coastal climate is mostly hot and dry which is why the use of sugar, tomatoes and lemon is quite common as these foods keep the body hydrated. Another distinctive characteristic of Gujarati food is its palate-pleasing combination of sweet and sour flavors.

In big business houses, a traditional Gujarati meal sits on a lovely silver platter and comprises of an elaborate affair complete with rotis, dal/kadhi, sabzi or shaak, rice and homemade pickles to tickle your taste buds. 'Vaghaar' is a blend of spices purified in hot oil and generously drizzled over dal to enhance the flavor and impart an irresistible aroma. The prominence of ingredients like besan or gram flour, lentils, sesame seeds and yogurt is another feature that sets Gujarati dishes apart.

Relish the flamboyance of Gujarati food with our top 10 traditional recipes.

1. Khandvi
Recipe by Chef Niru Gupta

One of the much-loved Gujarati snacks, khandvi is made with gram flour and tempered with coconut, mustard seeds and curry leaves.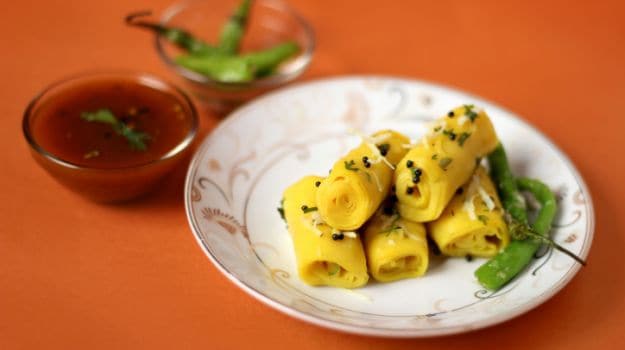 2. Gujarati Samosa
Recipe by Chef Uma Singh, Farsaan Restaurant

This much-loved tea treat is stuffed with a chunky filling of peas sauteed with sugar and lime juice.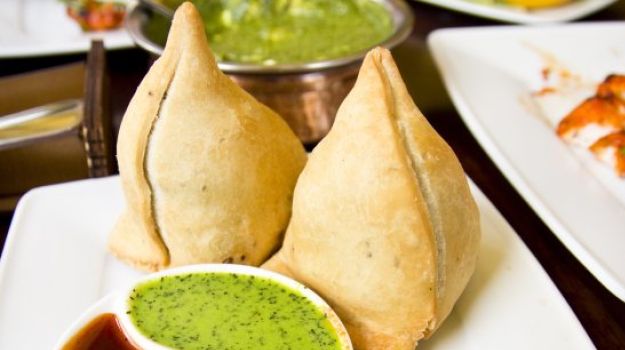 3. Undhiyu
Recipe by Chef Uma Singh, Farsaan Restaurant

This Gujarati vegetable curry is wholesome and very healthy. Made with a mélange of winter veggies like brinjals, surti papdi, potatoes, coconut, bananas and methi, this dish is traditionally served in earthen pots.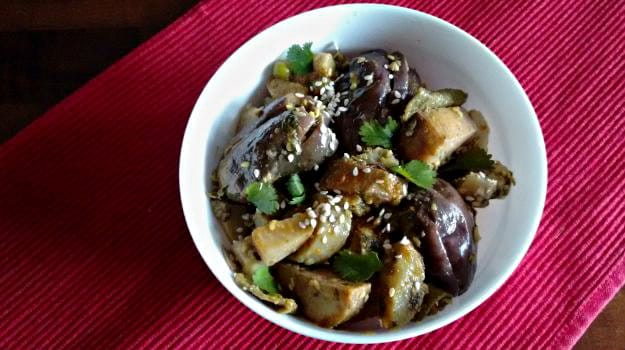 Image credit: Plavaneeta Borah

4. Aam Shrikhand with Mango Salad
Recipe by Chef Karan Suri

Shrikhand is a simple and soothing Gujarati dessert made with hung curd. The chef gives it a fruity makeover with the addition of fresh and juicy mangoes.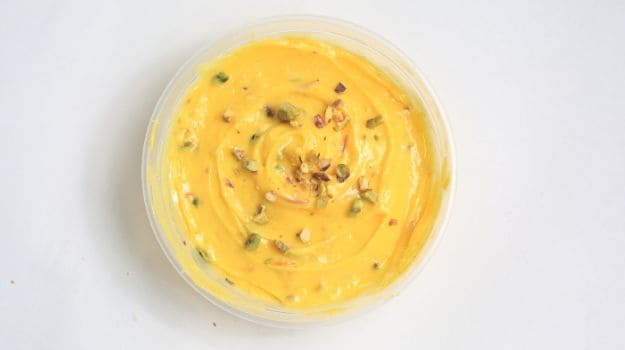 5. Gujarati Kadhi
Recipe by Chef Niru Gupta

A staple in almost every household, Gujarati kadhi is a lovely curry with sweet undertones. This cooling curry is great to escape the heat. (Recipe video)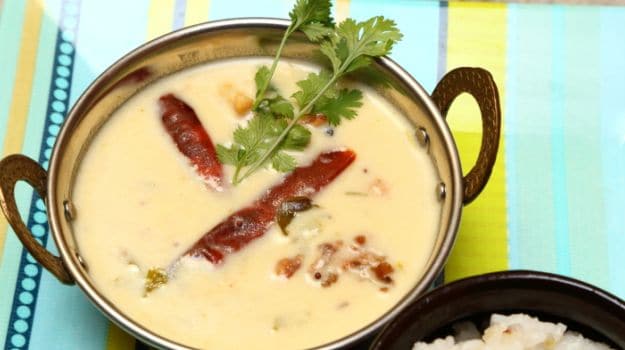 6. Dhokla
Recipe by Chef Aditya Bal and Devanshi

The ultimate Gujarati food, these Soft and spongy dhoklas just cannot be missed. Learn the art of making steamed dhoklas at home with this simple recipe. Dhokla Recipe Video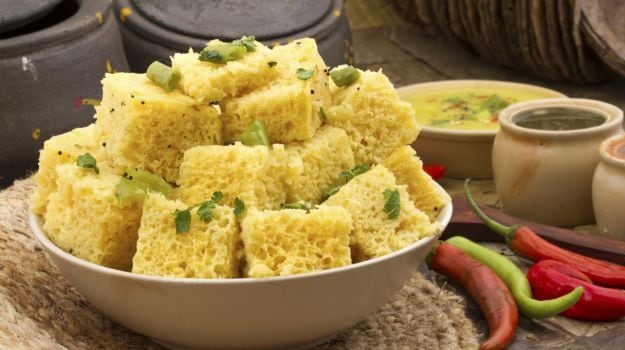 7. Bardoli ki Khichdi
Recipe by Aditya Bal

A fragrant rice preparation along with dal, spices, peas, potatoes and raw mangoes. This is a Gujarati delight that one shouldn't miss!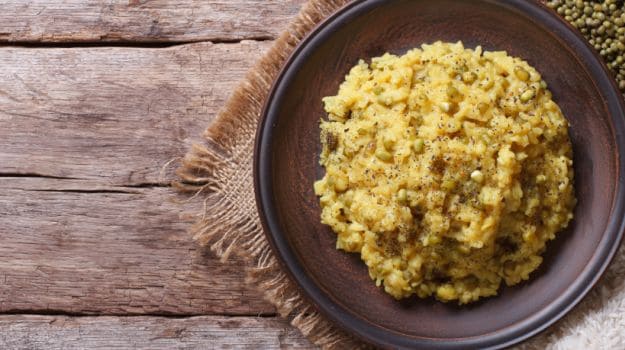 8. Methi ka Thepla
Recipe by Niru Gupta

Popularly made in Gujarat, this fine and flavorful Indian bread with made from whole wheat flour kneaded with methi, chillies, herbs, yogurt and a dash of sugar.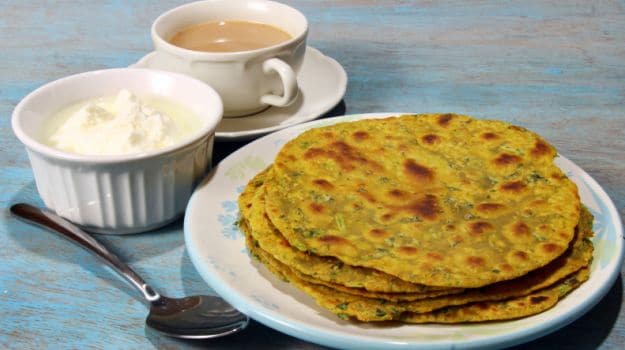 9. Dal Dhokli
Recipe by Niru Gupta

Spiced whole wheat dumplings simmered in a lively curry made with tuvar dal, garlic, peanuts, kokum and turmeric.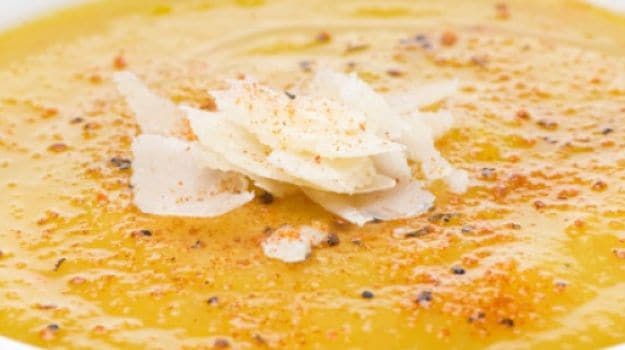 10. Handvo
Recipe by Niru Gupta

A savoury tea-cake that is crisp on the outside and soft on the inside. It is made with an aromatic mix of buttermilk, flour, coriander, chillies, lentils and rice.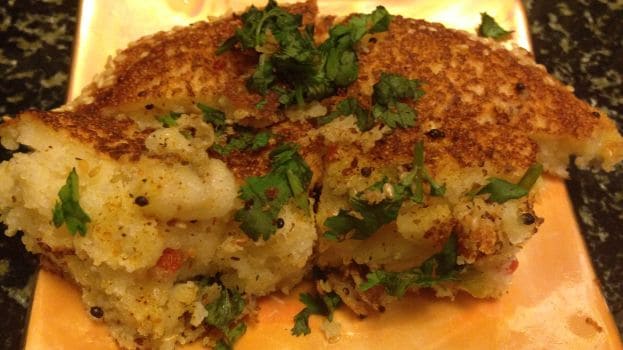 These recipes can be made and enjoyed anytime of the year, for breakfast, snack or even lunch. Try making them a few times before expecting to perfect the recipe!

Comments