Festivals are the time to celebrate life and to count ones blessings and it probably doesn't get bigger than
Diwali
when it comes to pan-Indian festivities. One of the things that I feel most grateful about in life is the number of great friends that I have thanks to my food blogging and this article is my tribute to them. While writing it, I spoke to food bloggers and writers, chefs and restaurant owners, people who just love to talk about food and people who love to cook, and have come back to you with some delicious Diwali stories from across the country.
Let's start with the West and in particular, Mumbai, the city I now call home. Kunal Vijayakar, a popular foodie, belongs to the Pathare Prabhe community. The community is small in number and consists of some of the earliest settlers of what is the city of Mumbai today. Their love for food, especially non-vegetarian food, is legendary. Kunal is fond of a dish called shingdya which they have during Diwali. It is similar to karanji, a dish which is a favourite across Maharashtra, especially in the Konkan belt where these half-moon dumplings are usually stuffed with grated coconut and fried. "We make them with coconut. With dudhi halwa too," said Kunal and then his eyes lit up as he continued to say, "or better still, with spicy muttonkeema."'Alka Keswani, who writes about Sindhi food, says that it is mandatory to offer the murmura chikki known as phulan ji lai to the Goddess Laxmi by Sindhis during Diwali and that most Sindhis would send Mazun/ Majhun mithai to their married daughters and sisters on the occasion. The mazun is a mithai made by roasting poppy seeds in ghee to which loads of dry fruits and nuts are added and this is slow cooked with milk or khoya.'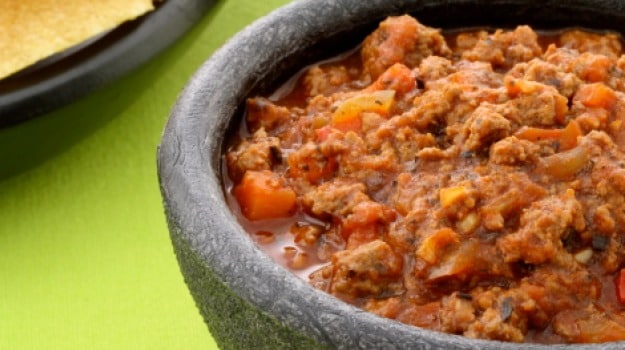 Mumbai has a strong heritage of Gujarati restaurants and I spoke to Pinky Dixit Chandran, who owns 'Soam' which is my favourite Gujarati restaurant in town. Pinky likes to have jalebi and fafda on Diwali for breakfast with some spicy grated raw chutney on the side. It is the Gujarati New Year too and this makes for a great start to the year says the ever smiling Pinky who is a Kutchi Gujarati.
I was first introduced to Soam by Rushina Munshaw Ghildayal, one of the earliest food bloggers of India, who loves showcasing regional Indian food herself. Rushina is a Gujarati too with mixed Vaaniya and Kutchi Bhatia roots. She has fond memories of spending Diwalis at her grandmother's kitchen as a kid when the women of the family got together to fry ghugra (the Gujarati version of karanji), roll out cholaphalli and cut the diamond shaped dough for shaker-paras (a sweet version of the Bengali nimki). Baby Rushina used to help her dadi (granny) by crimping out the ghugra, and now teaches people how to do it themselves in her studio called A Perfect Bite Studio.
From Gujarat, I moved to Rajasthan and spoke to Chef Ashish Bhasin of the Trident BKC. He is a Punjabi who works in Mumbai but has grown up in Ajmer in Rajasthan and is a big fan of Rajasthani food. He has gone to Jaipur this year, with his Bengali wife, to spend Diwali with his sister. Diwali in Jaipur, Ashish tells me, is all about celebrating Lord Ram's return to Ayodhya. The city is lit up with diyas to celebrate the occasion. Mithais star in the festivities. You could try the ghevars for which people queue up at Laxmi Mishtan Bhandar in Jaipur and the mawa kachoris, which you can get at places such as Rawat Mishthan Bhandar, to start with. Other Diwali favourites in Rajasthan include kesari peda, badam katli, boondi payesh, mohan thal and besan chakki and the list continues quite a bit. Ashish talks fondly of the malpua at Pushkar, the holy city which is located close to Ajmer where he grew up. I've had the malpua on the streets of Pushkar too and it is indeed superb.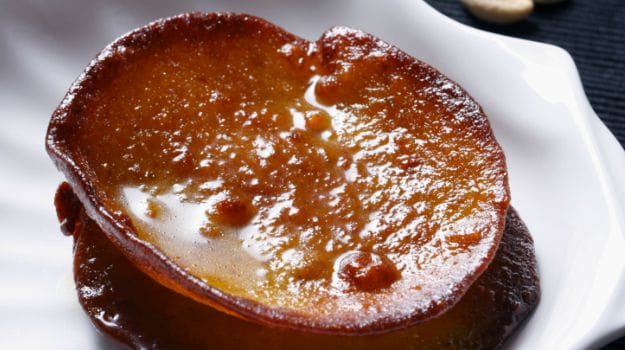 Rida Khan, who is based in Bhopal in central India and is currently researching the food served in airlines, has been going for lunch on Diwali to her mom's best friend's house for the last decade or so. The Khans take boxes of gajjak, the local Diwlai favourite, and desserts made by Rida at home. The common snacks and desserts made at home in Bhopal for Diwali include the Diwali mathri, chivda, chakli, balushahi, gulab jamun, gujiaand shaker-para. On Diwali day, these treats are taken over to the houses of friends and neighbours to spread the good cheer.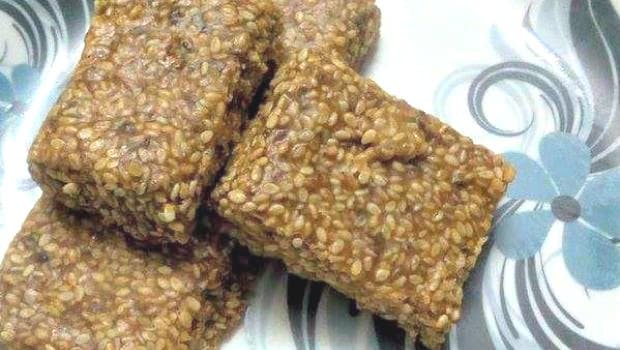 Image via Rida Khan

North India celebrates Diwali with pomp. Saransh Goila, who has recently started the Goila Butter Chicken outlet in Mumbai, is originally a Delhi boy and comes from a mixed Sindhi and Baniya lineage. Diwali, while growing up, for him was all about having churma with yellow urad dal and ripe bananas. Freshly fried puris are then ground with boora (powdered unrefined sugar) and dried fruits to make this churma which is also served for the Hanumanji Puja, says Saransh.
Jaideep Riar, an evangelist of Amritsar's food, tells me that the festival of Lohri is bigger than Diwali for many in Amritsar. This was news to me, as Diwali in Mumbai is celebrated with great fanfare by my Punjabi friends. The highlight of Diwali in Amritsar, says Jaideep, is the massive firework display at the Golden Temple. Sweets are exchanged between homes. The motichoor laddoos are the most popular gift to give and, for those who can afford them, kaju katlis too. Being a festive occasion, non-vegetarians like to cook mutton or chicken at home. At the heart of the curry cooked in Punjabi homes, says Jaideep, is a base of onion, ginger garlic, dahi, red chilli powder and dhania but what makes the curry special is apparently a liberal smack of kasoori methi and fresh coriander.
Diwali is really big in Uttar Pradesh too. I spoke about the Diwali food had there with Sangeeta Khanna who writes about the goodness of traditional India food. Sangeeta tells me that suran ki sabzi is the most popular Diwali dish in eastern UP. This is had with pooris and malpuas. Suran (yam in English and oal in Bengali) is considered as auspicious as the Goddess Lakshmi in Eastern UP, says Sangeeta. There is a shop called Ram Bhandar in Varanasi which would make the very exclusive suran ke laddoos on order for aristocratic families.
If we go further North to Himachal Pradesh, we could expect to get wada and bedami puris made on festive occasions for Diwali says Sherry Mehta Malhotra who cooks Pahari food for pop up events. This is served with lentils and a bread called siddhu. Siddhus are made with wheat flour and yeast and take a while to make and are always served with ghee. Depending on the stuffing, these ball shaped breads, could be savoury or sweet. The thing about Pahari cuisine, Sherry says, is that it uses a lot pulses and flours as a base as fresh vegetables are hard to get. Dishes such as siddhu and the badami pedas are had through the year as well, but taste extra special during festivals.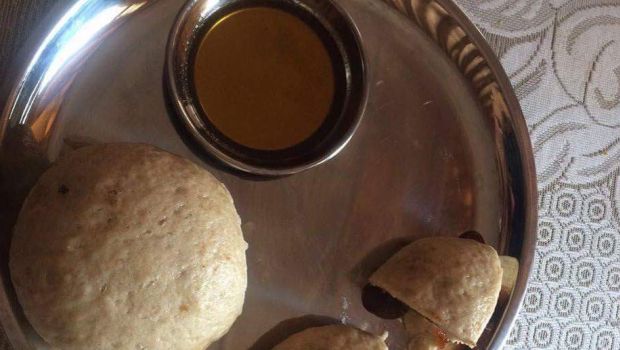 Image via Sherry Mehta Malhotra

Acclaimed food writer, Marryam H Reshii, is at her most passionate and eloquent while writing on Kashmiri food, if you ask me. Her friend, Sanjay Raina of Mealability, told her that Kashmiri Pundits love to celebrate Diwali with dum aloo. Large potatoes are peeled and pierced in several places with a toothpick and then deep fried. Later, they are sauteed in mustard oil and spices among which hing, haldi, saung, dried ginger powder and red chilli are some.
The trick is to make the potato so porous with the needle/toothpick that the cross-section shows up as red as the outside. And the scent of hing should assail your nostrils.
What about my native east? Well in Bengal, it is Kali Pujo that is celebrated more than Diwali. Kali Pujo for me is all about the mangshor jhol or mutton curry that my granny would cook when we would meet at her house for Kali Pujo. For the puja, my mother tells me, a niramish (vegetarian!) mangshor jhol is made where no onions or garlic are added to the curry.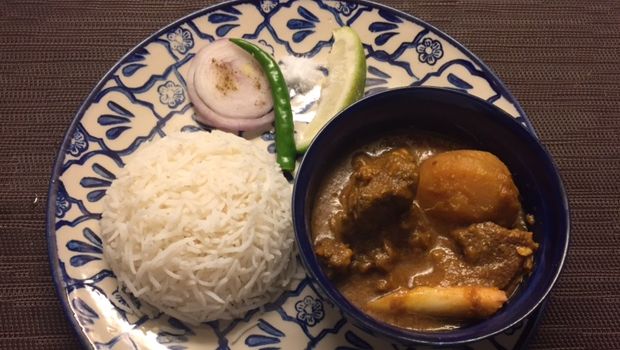 Image via Kalyan Karmakar
Diwali is big in Bihar as Stuti Sinha, who is a hotel marketing consultant and content writer, tells me. She is based in Dubai now and misses the Diwali treats from back home in Bihar. Mithais are at the core of Diwali celebrations in Bihar reminisces Stuti. Halwas are made, and the aate ka halwa, made with whole wheat and ghee and which is similar to the Punjabi kada prashad, is very popular back home according to her. Lots of ghee, milk and sugar lies at the heart of this dish and dry fruits are added to it these days. Another star of the Diwali in Bihar are hot malpuas, "crisp on the edges and soft inside," says Stuti nostalgically.
In neighbouring Odisha, it is the classic Odiya dessert chhena poda (a sort of sugary chhena based baked cheesecake), which is the star of Diwali celebrations too says Amit Patnaik, a young food writer now based in Chennai. He has lived all over the country but during Diwali misses the Odiya treats his mother used to feed him back home including the sweet pancake arisa pitha and the fried gaaja made famous by the Puri Jagganath Temple. I have fond memories of devouring gajas by the dozen and the sweet pulao from the Puri Temple as an eight year old myself. Dahi bada with alu dom is a savoury favourite among Oriyas which features on their Diwali menu too.
While Diwali is not too big in tribal Assam, Gitika Saikia who through her pop up meals has helped promote the awareness of North East Indian food, talks fondly of the narikal larus made during Diwali. I realised that this is similar to the narkoler naru made by my granny during Laxmi Puja in Kolkata. The other exciting thing about Diwali in Assam, Gitika tells me, is that this signals the advent of duck and pigeon meat on the dinner table with the temperatures beginning to dip!
When I asked Ajit Bangera, senior executive chef of the ITC Grand Chola, about Diwali celebrations is his native Mangalore, he excitedly told me about the festive dish of chicken korri (Tuku for chicken) roti. The rotis are steamed ground rice dough flat breads which are then dried in the sun till crisp. The rotis are paired with chicken gassi, a Mangalorean curry redolent with the aromas and flavours of fresh coconut and ground spices. The trick is to pour the curry on the roti, as a Goan friend showed me at the Mangalorean Modern Lunch Home in Mumbai's Fort area, so that the roti absorbs the curry and takes in the flavours. The dish changes texture through the meal as the rotis turn from crisp to soft and delightfully soggy. I have also had a good version of the chicken kori roti at the restaurant Social in Mumbai's Khar suburb.In Andhra Pradesh, Diwali festivities involve sharing of traditional sweets such as bandaru halva, which is made with a refined flour, water, cashew nuts, sugar and lots of ghee, with friends and neighbours.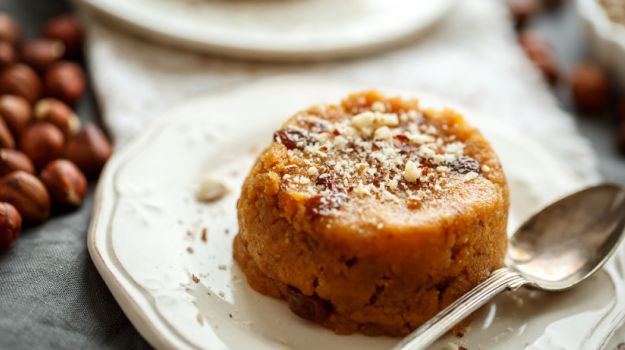 Chef Zaheer Khan, who is in charge of concept development with Nestle India now and a former chef with the ITC Hotels, talks fondly of Hindu neighbours coming over to give halva when he was growing up in Guntur. He used to receive traditional sweets when he was living in Hyderabad too. He has moved to Gurgaon now and says that fusion based desserts, made with chocolate for example, are now in vogue for Diwali in Hyderabad, though the traditional sweets hold their ground in smaller towns of Andhra and Telengana.
Going further down to Tamil Nadu, where Diwali is pretty big too, you can expect to get a dish called Diwali Okkarai says food writer and blogger, Nandita Iyer. Nandita uses her grandmother's recipe to prepare this family heirloom feast. Being someone who gives a lot of importance to health food herself, Nandita loves the use of jaggery instead of refined sugar and the low amount of ghee needed in making this flavor-packed and heart-warming chana dal based dish.
I felt humbled after I finished writing this article. There is so much diversity in India that the thought is mind-boggling. The list of dishes here is not exhaustive of course, and there are many other festive Diwali dishes that are enjoyed across the country. Yet, what I learnt through my chats with my friends made me more hungry to get to know more about the richness of Indian food.
So why don't we start with your telling me about your favourite Diwali dishes? Write to me in the comment box below.
Happy Diwali folks.
Disclaimer:
The opinions expressed within this article are the personal opinions of the author. NDTV is not responsible for the accuracy, completeness, suitability, or validity of any information on this article. All information is provided on an as-is basis. The information, facts or opinions appearing in the article do not reflect the views of NDTV and NDTV does not assume any responsibility or liability for the same.